Seven hours with pimps,
prostitutes & welfare officers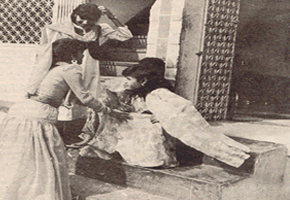 Chaturbhuj Sthan in Muzaffarpur, an eastern district in India, stretches a kilometer. With five lanes and an equal number of bylanes, it is the home of 543 families. Of 1,000 women. And numerous men who come every evening. It is a red-light area, a land of sex workers. Illiteracy, unemployment loom.. Of late, the area has undergone a sea change, thanks to the district administration's welfare drive..





12

noon.. It was sunny wintry afternoon in the land of sex workers. Behind the thicket of blurred expectations, seminal fear and concomitant sympathy prejudice was left lean. One had heard of sex workers, seen their montage in movies and gleaned their pathetic profiles in black and white. They perpetuated the world's oldest profession and were insouciantly called 'scum of the earth', 'scourge of the society'. 543 families and nearly 1000 women, girls and child prostitutes all inclusive. Living a similar life with similar accoutrements. Blue signboards, all of the same size, the names painted white, the facsimiles nailed on every door. That is their identity. Bare facts. Without any frills.

The yellow house with an arch and a carved parapet marks the beginning of the red-light area. Though the area derives its identity from Chartbhuj Sthan temple, you'd have to walk down a certain stretch before you pay your obeisance to the gods. It is the eastern tip of the town, the cloth center of the region. Beyond it, the land spills over a staid silence. But Chaturbhuj Sthan has an existence. It has been there for 93 years. With no signs of apostasy.

12 noon. Working hours have already begun. Anu Kumari, in a black sequined salwar kameez, with stars in her dupatta waits. You ask her age and she smiles. She is not sure. Could be 23, could be more. The women of Chaturbhuj Sthan hazard a guess about their age. With no fathers around and their mothers alone, their birth is never awaited. They are just delivered into this world, for their mothers have to get back to work. It is a question of livelihood.

Anu, illiterate, is the eldest in a family of eight. Her younger sister is getting married. The others are studying, far away from the madding crowd. But Anu accepted the legacy. "Somebody had to make the sacrifice, I did it," she says matter-of-factly. Her mother Nargis chips in, she came to Muzaffarpur when she was four. The family, over the generations has known just one profession - prostitution. Nearly 45, she stopped performing when Anu took over. That was six years ago. Though Nargis claims she 'now just takes care' of the family, it is difficult to believe. She has a son, just five months old. And a daughter, Frooty, barely three. Nargis frankly admits that there are times she takes precautions. But her litter is a result of her mistakes.

Family, is the prime concern. "I am the father, I am the mother," and she has no regrets about it. She tries to hide the pain stoically, but if you look deep you can see it. When questioned why she never thought of Anu's marriage she looks back questioningly, "Who will marry her, tell me?"

There are no answers.

The room is furnished simply. A mattress for the clients with a neat bedspread, a huge mirror on one side and a number of framed couplets from the Holy Quran. Anu is a Muslim but does not fast regularly in the month of Ramzan. She is a believer, though. In the same room sat Asha learning the nuances of music from Cherag Bijnouri. You cannot call it music, they were like songs recited, rather than rendered in music. Any question and she would look up to Nargis. Nervous and into the profession for two years, Asha wants to study but there is nobody to teach her. Nobody.

While Anu waited and Asha learnt, a few houses away Baby was getting ready. Her teeth stained with the regular use of gutka , Baby is already a mother. A few potatoes spilled on the cot and her hair hastily arranged, Baby in her red lace skin-tight kurta and black salwar hurried with her make-up. She had already applied a thick layer of Vicco Turmeric cream. She looked grey but other creams had to applied. Bright red lipstick, a few odd bangles and a faux gold mangalsutra completed the picture. Her daughter Zeba, 4, played with the potatoes while her son waited to be breast-fed. Hungry, he wailed, but baby waited for clients. She has to look after six sisters and her three children. And she is just 20. She look younger, though.

These vignettes appear on every verandah. But even this scattered stretch has its own laws, its own hierarchy. Rani Bai, said to be the mistress of a contractor in the Capital is the queen bee. She lords over the entire area. Held in awe, Rani Bai, 50-plus, no longer performs for the public. In her heydays she made regular trips to the Middle East to regale the audience with music and dance for a very hefty price.

Rina and Hamida too have been abroad and their six-month stay led to huge earnings, nearly 4 lakh rupees. But all of them come back to their roots. A telephone booth operator conforms this. According to him, until recently, more than six to eight calls were made to Dubai everyday (every Middle East country is 'Dubai') from his booth. Bombay is also think on the line, some pleading for quick visa clearance, others haggling with clients. Calls to Bombay are generally for 'business' while calls links to Sitarampur in Asansol have 'familial' reasons.

One is generally under the impression that these women lead a pitiable life of paupers. No, Kamleshwar Jha, the district welfare officer, asserts. Some of them make about Rs 10,000 a month. Not much is left in the coffers because all of them have a battalion of siblings to take care of. Khusboo has nine, Anu seven, Baby six.

Chaturbhuj Sthan has been stratified into 'class' categories. Interestingly, even the district administration spews few which fall gracefully in the 'class one and sophisticated' list. Roshan Jahan, Hamida and Reena are some of them. They are respected, looked upon and sought-after. The rates vary according to the 'class'. The bylanes, where there is is 'only flesh trade' are like the disowned, diseased cousins. The women of the main lanes, Shukla Road, Nake Road, Pakki Sarai, Kali Bari Road and Mandir Road look down upon the, warn you against them and stay away.

Kamleshwar Jha would have you believe that these sex workers are very choosy about who they have sex with. Not all men are welcome. Not in the main lanes. Money is not necessarily the main consideration. They invariably say not to strangers whatever price they might be ready to offer. In the bylanes, just anyone is welcome, even for as little as Rs 25.

Contrary to common belief, Chaturbhuj Sthan does not have a night life. Customers start coming as early as noon and by seven in the evening the sex-shops down their shutters. Not many tread that ground for fear of police extortion. The mujras go on till 9 pm after which the women pack their bags and go home.

Yes, not all of them live in Chaturbhuj Sthan, some occupy rooms in the area that serves as their office. The rent can be as exorbitant as Rs 1300 a month for a room. Every morning they pack their clothes, carry their vanity cases and come to work. The day begins with riyaz followed by the long wait. Food is either brought by the relatives or cooked there. There are no holidays. Rajiv Gandhi's death was the sole exception. There were no clients that day, there was no mujra that night.

There are gods there, both from the Hindu and the Muslim pantheon. Prayers are a way of life. Not education. Nor health care. Hamida was one of the few exceptions who had her heart in studies. Hailing from Saharsa she secured first division marks in the school finals. Not many have heard of AIDS and condoms are out. They cannot and do not force their clients to use condoms. Contraceptives? That's Greek for most of the women. Not many admit they have sexually transmitted disease. Though two cases of HIV positive have been identified, the victims were not photographed, hence difficult to be traced in the maze.

The welfare drive of the district administration has revivified their faith in a better tomorrow, but it is still a labyrinth, still a long way to go.

Chaturbhuj Sthan has its queen bee. The other bees. Its pimps. Its clients. Its gods too.