The Famous Grouse Experience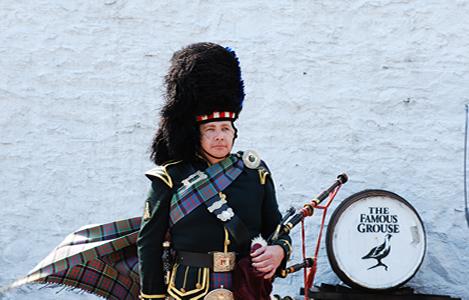 Photograph by Preeti Verma Lal
"Uisge Beatha?" The dimpled Scot in a black tartan kilt had me flummoxed with a tongue twister of a question. Standing outside Old Turret, Scotland 's oldest and most visited distillery, I found myself trapped between semantics and a warning. Nailed over a pack of sherry casks filled with sleeping single malt, was a terse warning, "Quiet Please. Whisky Sleeping." Huh! Whisky sleeping? So, who sang the lullaby? I muttered in superfluous sarcasm. But that day, the caveat etched in black sans serif font on a white plaque was being brusquely ignored – the bagpipe was droning, glasses were clanking, the air was redolent with the whiff of malted barley and buntings were rustling in the nippy breeze to celebrate the birthday of Famous Grouse, Scotland's most loved whisky for 30 years in a row.
I stood in silence, but "Uisge Beatha" was still droning in my head. What was that? A bug? A nosing jargon? A Gaelic charm? Or did the dimpled Scot in a pocketless kilt topped with a sealskin sporran (purse) cast a spell? My mind got addled with possibilities, till I deciphered the uisge mystery – the word whisky comes from the knotty Gaelic uisge beatha which over the years metamorphosed into a simpler, more melodic 'whisky'. And stupid me, I thought the Scot was holding me spellbound! With whisky etymology under my skin, I was prepped for the first drop of whisky to be decanted for the Famous Grouse Experience, a must-do whisky tour in the land of Scotch . But that had to wait, for distractions fell my way – a 17 ft high red grouse with lipstick kisses all over its copper frame that stands like a sentinel outside the distillery built in 1765, and the statue of Tawser, the distillery's favourite cat that killed 28,899 mice in her lifetime and holds a Guinness record for most mice meals!
Can we now have the whisky tour, please? I hollered. Within the distillery's white functional building, the Famous Grouse Experience, however, started not with whisky but with stories – the story of illicit distilling that was rampant in 18 th century Scotland and how Glenturret, in 1775, became the first legitimate site of distillation. Interestingly, whisky was not yet the favourite on the dinner table, wine was. Until the Phylloxera beetle literally chewed into the vineyards of Europe in 1860s providing an opportunity for blended Scotch, an opportunity that was lapped by Matthew Gloag & Son Ltd. that went on from selling whisky from a small shop in Atholl Street in the town of Perth to setting the trend with the Grouse family of whiskies that go through 8,735 quality checks before being shipped to 80 countries.
The dimpled Scot was rattling off details about the old, colossal hand-beaten pot stills and the gigantic wooden vats that still whirr in Old Turret. Whisky here is made the traditional way and keeping a watchful eye is the distillery's official mouser, Brooke, the cat that purrs around as one watches the barley ground to grist and later go frothy in the vats. As I peeped into the gigantic vat, the whiff of alcohol went whoosh straight into my head. I went woozy, fumbled and then… Queen Victoria stepped in. No, her apparition did not pop out of the vat; she stepped into the whisky story to add a quirky twist to the tale. During her state visit to Scotland in 1842, Queen Victoria and Prince Albert , sat for a lavish dinner in Scone Palace , drinking the famous malt with cracked ice out of long crystal glasses. That fateful night, the Famous Grouse whisky got the Royal Seal of Approval, a seal that it still flaunts on all Famous Grouse bottles. That night, the petite Queen gave whisky a big, royal kick up the drink ladder.
The Queen might not have stepped into Warehouse No. 9, but I did. The only experience of its kind in Scotland , you can nose the whisky straight out of the cask where it is matured for up to 30 years. Hundreds of casks are neatly arranged in the dark room, the year stenciled on each cask. To be called a Scotch, the whisky should be matured for at least three years, but within Warehouse No. 9, some whisky has been sleeping for 30 years.
What's a whisky tour without a cocktail lesson? And who better to teach than Mike Aikman, the director of the famed Brambles bar, a stripped-back haunt for hipsters in Edinburgh . Warning: Never challenge Aikman, he would floor you with Famous/Black/Snow Grouse concocted with just about anything – cachaca, rice milk, vanilla gomme syrup, cloves, cinnamon, lime, lemon, plum, ale….
Too much nosing and too much shaking had me tipsy and as I sat in the terrace restaurant and ordered spooney miniatures, Derek Brown, Brand Heritage Director, narrated stories of how Scotland's oldest distillery in Glenturret often bustles with Indian whisky lovers who troop down for a whisky experience. Between stories of how-much-Indians-love-whisky, I thought of Philippa, the daughter of Matthew Gloag who drew the sketch of the Red Grouse bird that still sits smug on the bottle of the Famous Grouse whisky. Far away, I could hear the River Tay gurgling near Loch Turret from where the water is brought for the whisky. The Famous Grouse Experience was not over yet – I still had to trek to the Grouse Hill, the home of the Red Grouse. I am hoping Brooke, the distillery's official mouser, would come along…
The Hindu, 2010