City of Sparkles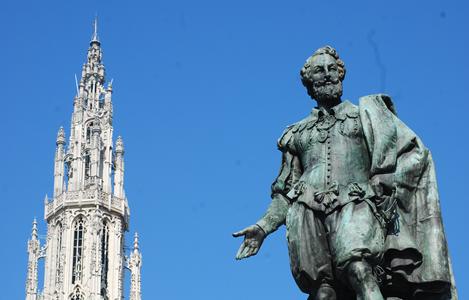 Photograph by Preeti Verma Lal
One look at that magnificent peacock and my greed quotient went spiralling up. No, I am not greedy. Honestly, no. I am not even vain. I do not think diamonds are a girl's best friend. But that nice-stepping, long-necked peacock left my "thou shalt not get greedy" resolve dead. There he stood, behind an impeccable glass pane – his plumes shimmering in the borrowed iridescence of a tiny bulb, his neck puffed in pride, his eyes seductive with arrogance, his feet dug deep into blue velvet. If looks could kill, I knew this peacock would have a short shrift.
I stepped closer to him, but the menacing stare of the dour security guard scared my courage. Don't blame my greed. This one is no ordinary peacock. He is laden with diamonds. He is priceless. Precious. Sparkling. He, the peacock, who pushed up my greed quotient is actually a spectacular brooch created by Gustave Baugrand in 1867. He cannot fly; for he lives in a treasure chamber of the world's largest diamond museum ( Antwerp Diamond Museum ) that houses jewels that could even have the gods envious. Nuggets. Baubles. Masterpieces. Antiques. A tennis racket with 1,637 diamonds. A long jewelled snake to be twisted around a dainty wrist. A tiara burdened with rubies for Empress Josephine. A necklace glistening with diamond dust for the Queen of Holland. A diamond watch for Jerome Bonaparte.
Ah! Greed, I should have left it by the sidewalk before stepping into Flanders . On the tidy cobbled pathway of the Diamond District in Antwerp, the world's diamond hub, I went into a tizzy with the staggering diamond facts: as much as 8 out of every 10 diamond in the world trade passes through Antwerp at least once; there are 1,900 diamond dealers cluttered within one square kilometer; one barely-500-metre street does an annual diamond business worth 33 billion US dollars (that slender street has 300 close circuit cameras); of the 30 Diamond Exchanges around the world, four are in Antwerp, including the only Exchange for rough diamonds. And you thought I got greedy about the peacock! No. Do not blame me. Perhaps temptation weighs heavy in the Antwerp air, sniff hard and it might just smell of diamond!
My four-day four-city Flanders trip started with the Diamond Walk which commences at the beautiful Central Station, often touted as one of the most beautiful railway stations in the world. But when the Walk ended in the Diamond District, I exhaled. Phew! My soul felt spiffy - I had ambled past innumerable diamond stores, but had not fallen to Greed. That, however, was not the end of my diamond tryst in Antwerp, the city on stream, that loves its fries with mayonnaise, its chocolates are hand-shaped, where Blond and Golden Blond are not slinky club queens but beer, where artist Rubens painted voluptuous women, where the world's first industrial printing room is still preserved in its Renaissance and Baroque originality and where an unending escalator is made of wood. Yes, wood; the only one of its kind in Europe .
Having shed greed, I took to art. To Sir Peter Paul Rubens, the 16 th century extravagant Baroque painter, who lived and worked in his Italian-style villa in Antwerp . Rubens' sensual women have eternally fascinated aesthetes and art lovers, but it is his depiction of Christ that perhaps brought about immortality for the man and his deft strokes. And the best place to see the best of Rubens is the Cathedral of Our Lady, a seven-aisled church which was once the largest Gothic structure in the Netherlands . It took 170 years to build the church that houses four works by Rubens: The Raising of the Cross, The Descent from the Cross, The Resurrection of Christ and The Assumption of the Virgin. Framed in gilt as a triptych, the colossal altarpieces are marked by vibrant hues, intense expressions, forceful lines and dexterous diagonal dimensions.
With glittering baubles and art masterpieces ticked off my Antwerp to-do list, it was time to meet an Emperor and a King in what Belgians call "the most beautiful chocolate shop in the world." Here, much before the chocolates could melt in the mouth, I dropped a jaw at the 35 million Swarovski crystals embedded in one white arch. The arch glistens gloriously and inside this former Royal Palace , Napoleon Bonaparte and King Leopold III stand sculpted in chocolate. But chocolate lovers are wont to shun the king and the crystals, they coo about what Michelin star chocolatier Dominique Persoone swirls into the cacao beans: avocado, lemongrass, lavender, asparagus, vodka, tequila… As if this were not idiosyncratic enough, there are chocolates flavoured with Tabasco, vinegar, wasabi. There's one with a dollop of Havana cigar smoke and the cola flat square fizzes and explodes in the mouth like firework. Chocolate connoisseurs queue up for the chocolate 'shock', for Persoone calls himself a Shock-o-Latier.
Dazed with that firework exploding in my mouth, it was time for another art form: eat and drink. Ask an Antwerpian about food and he'd probably pour a Bolloke beer and talk incessantly about the multi-cultural cuisine (they call it 'art form') of a city which is home to people of 128 nationalities. My culinary journey, however, got lost in translation, garbled vowels and tongue-twisting names: Roggeverdommeke (rye bread), Congolaiske (chocolate bonbon with butter), appelbolten (apple balls), Elixir d' Anvers (a digestive liqueur made of 32 herbs)… The semantics were teasing and the vowels muddled – I ordered Belgian fries topped with a scoop of mayonnaise. I stood by Rubens' statue in Groenplaats and sighed dolefully about the nice-stepping, long-necked magnificent peacock.
Flanders trip was to end in Ghent, a town which from 1000 to 1550 was one of the most important cities of Europe – it was bigger than London and second only to Paris in size… But even in the squat town which is called Flanders best-kept secret, I was preoccupied with the thought of the peacock. No, I am not greedy. But why cannot I forget him?
The Economic Times, 2011