Santa's Lapp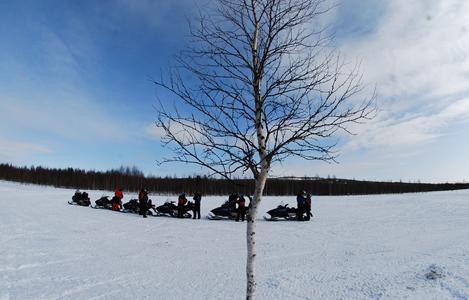 Photograph by Preeti Verma Lal
"You want to be reborn as a reindeer?" The Sami tribal in a blue embroidered coat and a fur raccoon cap threw an existential question at me. Picking warm ash from the burning cinders of the bonfire he had just drawn antlers on my forehead, but in minus 20 degree temperature I needed hot berry juice not an after-life query. Reindeer? From the tepee I peeped out for another look at the reindeer – beige wooly undercoat, large eyes, curved antlers, a neat mouth…Reborn as a reindeer? I reluctantly imagined myself morphing into a reindeer and then hurried back to reality. Gawd! I would look preposterous as a reindeer with palmated antlers, my hooves making a clicking sound while pulling a sledge, munching on Artic lichen for lunch, grunting to say 'I am happy' and not even have tweeds to wear in minus 20 degrees. No, not reindeer, please. "Do I get another choice?" I asked the tribal, mulling over after-life options of being the cute Eskimo dog or polar bear curled up in Ranua, the world's highest zoo. The Sami guy looked flummoxed; in the Arctic Circle that is the best he had on offer.
Bundled in thermal overalls and snow boots, I trudged on a thick sheet of snow and the imaginary Arctic Circle line that runs 66.56083 degrees north of Equator. The Sami thought of turning me into a reindeer was still niggling my years away. As if to kill my blues, I was reminded of the munificent Santa who lived not too far away in his village called Rovaniemi. Sure, Santa could think out of the box, perhaps he would turn me into Alice in the Wonderland or grant me a fairy mother like the one he granted Cindrella or pulled a surprise wish for me from his colossal red goodie bag. Who knows! In the chill that was cutting through my bones, I found warmth in the generous-Santa thought. Santa was a few miles away, I could holler my wish up to him. Instead, I rode a snow scooter on a frozen river, manoeuvred the snowy bumps, ducked against the prickly shrub that fell on way and hurried to get to Rovaniemi, where lived Santa, my saviour of the day. Or, so I thought.
In Santa's village, there was red everywhere. That lustrous red of the poinsettias. The elves wore red pixie hats, the paunchy snowman had a red scarf noosed around its beefy neck, there were red posters on Santa's door, on the wooden signboard that read Joulopukki Santa Claus a cartoonish Santa looked amusing in a twisted red cap. Before walking into the cave-like pathway that leads to Santa, I slipped into a Press jacket that seemed pulled out of a red emulsion tin – so bright was that red. The labyrinthine road to Santa was cluttered with, what else, but Santa memorabilia. I was carrying a wish in my heart and wanted to see Santa quickly. Who cared about the memorabilia! As I walked up the creaky wooden staircase, I saw him – Santa, the real Santa, the one with a guttural ho-ho-ho, the one who comes on a jingling sleigh…But this Santa looked stodgy in his red pyjamas and humungous felt shoes. I was distracted by his silvery and shiny (nylon, you see!) beard… That day Santa had several visitors; everyone queued up neatly for a dekko. When my turn came, I forgot about the wish, all I got from Santa was a round red sticker that I stuck on my camera's lens. But, Santa, I had a wish. I could not holler my wish, for Santa was busy sticking stickers on others… My poor wish. The Samis and Santa, no one paid any heed to it, I sighed.
In Lapland , I was not ready to sulk, though. I found solace in 60,000 tonnes of ice. Yes, in Snowland, an igloo restaurant, where everything is made of ice – the bench by the bonfire, the pew in the church, wine glass in which you can tinkle berry juice, the dining table, the bed… As I drove into Snowland, I felt a chill down my spine - large slabs of ice picked from the lake make for a boundary wall; the dining tables and benches are made of pure ice with real reindeer skin for upholstery, a large ice sofa changes colours every few minutes and all you see around are sheets of ice that melt away in summer only to be rebuilt again every December. The temperature inside is maintained at a constant 6 degrees Celsius and I was shivering and my teeth were about to chatter. I borrowed leg warmers, wrapped myself in reindeer skin and ordered a steaming bowl of mushroom soup. The food was typically Lappish and I washed it down with an unending refill of hot berry juice.
"Perhaps you could dance the cold away," Marco, the guide, had a groovy suggestion. Snowland has an Arctic Disco. "But, remember, the dance floor is slippery," came Marco's quick warning. Stilettos are a bad idea in an ice disco but I was not ready to shake that leg in heavy, frumpy-looking ice boots!
In Lapland , the Northern Lights proved too elusive, I did not see them scatter colours in the sky. I waited all night, but the Northern Lights did not paint even a stroke of lilac for me. I still waited all night…
I am still waiting. Christmas is round the bend and I am waiting for Santa. Will he bring more than a red, round sticker for me? I am keeping my fingers crossed. And singing hosannas in anticipation!
Published in The Economic Times, 2009