A foodie's day out in Bangkok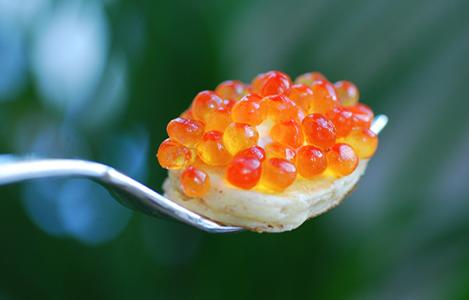 Photograph by Preeti Verma Lal
"What would you like for dinner? Fegato grasso con lomponi? Or, pesce veloce del baltico affumicato con finocchi e ginepro?" I had barely found a corner in Rossini's, Sheraton Grande Sukhumvit's Italian restaurant, when pretty Punpreuk Smitinand (aka Fai) dropped dinner options. Hastily, I dropped a jaw. Uttered in Italian, I cannot decipher a polenta from parfait nor Bolognese sauce from burrata cheese. Sitting in Bangkok 's most-awarded Italian restaurant and being ignorant about Michelin star chef Alfredo Russo's exquisite dishes was sheer blasphemy. Dinner options were lost in translation, until Fai, the gracious public relations manager, doubled up as my interpreter: seared foie gras with raspberry or smoked cod fish with fennel salad and juniper berry? In Rossini's, dim lighting, dinner looked like art served on a platter – the red of the raspberry broken with a daub of green and a tinge of brown. That's how my food story began in Bangkok – with seductive aroma in lavish Tuscan villa décor within a coveted Starwood Luxury Collection hotel.
Little did I know that my Bangkok food-quest which began so scrumptiously in Rossini's would turn from lavish to streetsy to food-court-sy and take me into alleys, bylanes, and Asia's largest flea market where noodles slingers gather for drunken noodles (the name borrows from drunken noodle lovers who ghost-walk in the wee hours for food) and waitresses rustle up dishes faster than a cat on helium, that I would find the absolutely traditional recipes in old Bangkok and would not have to hop too far for Thai cuisine with a heavy dose of Chinese, Burmese, Malay, Indian ... Name it and medley of flavours melds so sumptuously with the original Thai that you forget what original really is! Choices can spoil (or spook, depending on the foodie-type): fried frogs and bees, barbecued octopus, unripe mango slathered with chilli sauce, coconut/green bean ice cream, fish sausages charred casually, pad thai topped with gooey omelette and spring rolls served with gluey sauce. Noodles, foodies would vouch, are the test of good-food in Bangkok , but there's more to good-food than the oft-talked streetsy slurps.
Like the not-so-long ago $25,000 at The Dome in Lebua ( State Towers ) meal that created a culinary flutter worldwide. As if that was not lavish enough, next on the menu is a million-dollar meal where the monied would hobnob with Hollywood glitterati. Think of what could be on the plate: white Almas caviar that comes from 100-year old sturgeon in the Caspian Sea and costs – hold your breath - $2000 for 10 grams; a bottle of wine for $20,000, truffles with edible 23-carat gold for $ 30,900. All on diamond-studded gold cutlery and wine glass rimmed with real gold dust. Phew! Hop a few stairs to the Sky Bar at the 63 rd floor and you'd find yourself in one of the world's highest sky bars with a breathtaking view of the city that never sleeps.
Or, the seafood at Mandarin Oriental's Lord Jim's which borrows its name from Joseph Conrad's seafaring protagonist. Ask a gourmand and he'd tell you that at Lord Jim's you can have the ocean on your plate – in style, that is. The Boston lobster comes with thyme croquette potatoes, Vichy carrots and a green pea cappuccino while the grilled whole sole is accompanied with buttered spunta potatoes and champagne cream with steamed vegetables. If nostalgia and royalty are your palate's favourite flavours, you'd find it in a century-old building where forgotten recipes and royal dishes are rustled in Blue Elephant. Here, you can step back into the golden age of Kingdom of Siam when the first foreign visitors stepped foot into what is now Thailand and influenced the local cuisine.
I was spoilt for choices, but that sultry December Saturday, I shunned nostalgia, royalty, all things French, European, Japanese, Italian and headed to Chatuchak, often touted as one of the largest weekend markets in the world. No, not to shop but to dig my spoon into the coconut ice cream served in a coconut shell. "You'd get lost in the 15,000-stall market spread over 27 acres," Fai warned. I knew I would. Thankfully, Fai acquiesced to guide me through the countless alleys that have 400 food stalls. The heat was blistering, the crowd boisterous, but I had heard stories about the original coconut ice cream stall in this must-do flea market. Honestly, I did not bite into the 'original stall' spiel but having elbowed, nudged, pushed past what seemed like a million people, I bumped into another crowd. That was a sight to behold! Everyone had a coconut shell in hand, everyone was scooping ice cream with wisps of coconut. Everything other than the coconut ice cream seemed irrelevant at the stall. Even the blazing sun. If you do not love coconut, stay away, for this one is heavily coconuty – rich, creamy, sweet.
The crowd and the heat was killing me, I sure did not want sweat drops as side dish and took the Mass Rapid Transit (MRT) back to the comfort of Sheraton Grande Sukhumvit. Temptation lay just a skywalk away from my room in Terminal 21, the newest ritzy mall smack in the middle of Bangkok busiest retail zone. On Floor 4 & 5, there are nearly 50 restaurants. Aping San Francisco (there's even a small Golden Gate Bridge !), the two floors are a foodie's latest haunt. From shaved ice desserts to Hainanese chicken rice to phad thai, roast duck noodles, everything is budget and everything is soul food.
I spurned temptation - and San Francisco look-alike - I chose The Sala by the pool in Sheraton Grande Sukhumvit. The palm fronds were swaying, a Jacuzzi was gurgling gently and squids were sizzling on the barbecue. I put my feet up, ordered a drink and sighed that my Bangkok food-quest had come to the day's end. Suddenly, I heard a splash. It was in this blue pool that Nicolas Cage had killed a gangster in the 2008-film Bangkok Dangerous. Thankfully, my Bangkok food story did not end in gore, it concluded with a Pineapple Strawberryade.
Discover India, 2012