Inside a Bedouin home in Oman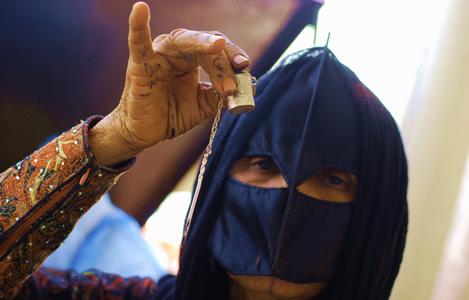 Photograph by Preeti Verma Lal
The rickety loom lay languorously on a sandy bed; on the fat wooden truss, a lantern sat lazily; a camel skin travel bag was stashed in a corner; large red cushions looked resplendent with sequined trimmings and on the frayed carpet were tidily laid fresh dates, a bowl of water and a coffee pot. In the mid-summer afternoon Omani sun, the desert sand was spitting fire, the dunes were rippling menacingly and I had just stepped into a Bedouin tent in the Wahiba Sands, roughly 200 kms from Muscat , the capital of Oman .
Scattered on the sorrel sand were nearly 15 Bedouin tents, but in the 50-degree Celsius heat, the landscape was desolate and the silence edgy. Sheep were resting under tin shades, acacia had wilted and the callous sun had turned the date palm roof of the Bedouin huts ashen.
I took off my mules and tiptoed on the scalding sand. I first heard the crackle of a laughter. A young Salem bin Khalid Huhibi was kicking a football and teenaged Mohammed Salem Al Ahmbri, wearing the traditional white disdasah, was fiddling with his not-so-fancy cell phone. Petite Salma was leaning on a cushion wearing a chintz abaya (robe) and a floral hijaab (head scarf). Salma muttered a welcome, but everything – except the warm smile – would have been lost in translation if not for Ali Darwish Ali Al Hashliali, the Zahara Tours driver/guide, who happily turned into a deft interpreter.
For 23 years, this scarp of desert land has been the home of a family of eight (two sons, four daughters) headed by a man who had no skills except tending to the camels. Every year he trudged to the stables of Sheikhs in the region to become a seasonal camel-keeper, returning home after a few months with a handful of Omani rials. There was nary a rial in the family coffer and the old man sold goats and sheep to feed his family. Being a Bedouin is not easy, but in Oman , they pay no rent on the land, education is free and the government is caring. Today, the Al Ahmbris have 45 sheep and goat and 11 camels. Two of the daughters are married and the old man is buried in the sand.
Ali was translating the Bedouin family history in his staccato brogue. Suddenly, I heard the whirr of a vehicle and the rustle of the date palm-lined door (or, the semblance of a door). In walked a tall man, in a dishdasah and brown scarf, his pencil-thin moustache adding a hint of machismo to his lean frame. I'll call him Hameed. That's not his real name, but the family's eldest son refused to share his name. Ali frantically tried convincing him that I was 'merely doing' a story on Bedouins and had no 'ulterior motive', but 'Hameed' did not relent. I did not insist either. Hameed has stepped beyond the traditional Bedouin mores – he finished his education and now teaches Arabic in a school, a far cry from the typical semi-nomadic Bedouin way.
Salma, Hameed and Mohammed are caught between the traditional and the contemporary. They have not sloughed off the ancient ways but have picked the accoutrements of modernism: his father rode a donkey to work; Hameed drives a SUV. Salma dropped out of school after Class VII, but has no regrets. Her eyebrows are threaded in a neat arch and she can cook an owal (shark soup) to perfection. Mohammed throws a typical teenaged tantrum because he wants a phone as sleek as Ali's and little Salem attempts a sentence in broken English. So does Hameed. He refuses to be photographed but tells me about his search for a wife. He has to shore up about 8000 rials (roughly Rs 12 lakhs) as bride price and 3000 rials (roughly Rs 4.5 lakhs) for the wedding feast. Hameed's pockets are empty right now, but he has not given up on his dreams. He has a new-age solution. He'll try finding an Indian bride on Facebook. Why Indian? I was intrigued. Because the bride's father would pay for the gold, trousseau, feast, the double bed, the kitchen appliances, camel shuwaa (an Omani wedding dish in which whole camels are marinated and roasted in a sand pit for two days)… The bride's father would pay for everything and Hameed would saunter in as the coveted groom. Hameed guffaws about his dream and breaks into a wedding song, strumming the imaginary rababa in thin air. Mohammed forgets his angst and joins… That afternoon, I hummed the chorus, drank the kahwa (Omani coffee) and felt like a Bedouin.
On way to Muscat , Ali stopped at the Sinaw Souk, a meeting place for Bedouins. As I hop off the Land Cruiser, a woman on the sidewalk hollers. She is wearing a black abaya, her face covered in a mask; all I could see was her kohl-lined eyes and tanned, wrinkled hands. On the floor were plastic baskets with surma (traditional kohl), and bottles full of sandalwood powder; in her box, a bag full of saffron. She pulls my dress and gestures to sit and look at the trinkets. I wince, but meekly acquiesce. She stares at my kohl-laden eyes and packs surma in an exquisite silver box. I am diffident but the old lady pats my back and lends a warm smile. I pay 3 rials and pick the surma in the Souk.
I am back home. I am wearing the surma and feeling like a Bedouin. And I am busy looking for a bride for Hameed. Perhaps, I'll find one for him. Who knows, by now, the modern Bedouin might have found his bride on Facebook!
The Hindu Business Line, 2012