23,000 types of rice, salfi & that yummy red ant chutney!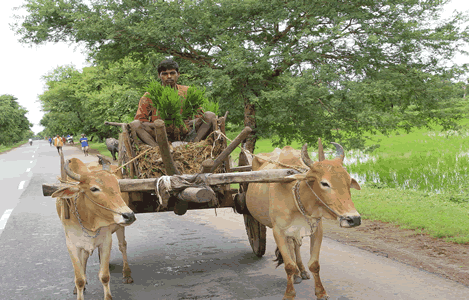 Photograph by Preeti Verma Lal
Between darkness and dawn there lurks the tipsy factor. Depending on when you gulp it, salfi can be a wonderful tonic or a potent drink. You can blame it on the rays of the morning. Salfi, the sap of the salfi tree, is to the tribals what lager is to the hip. Any occasion calls for a salfi, any moment is a salfi moment.

Rice
If you thought rice was an uncomplicated staple diet and choosing rice an everyday chore, you might be off the mark - well, some 23,000 counts away. And think of the confusion that accompanies that kind of choice, but it is exactly this confusion that Chattisgarh is really arrogant about. On its belly it grows 23,000 different varieties of rice. The colors range from white, to yellow, to brown or even red. Yes, size does matter here, from the tiniest of round, sleek grains, to short, stout red or brown ones, to tall, slim, really fair, beautiful (no, we are not talking about what an Indian groom wants!) grains.

They differ in texture, the price and of course, their stickiness. There are some that fall into the elite fragrant group - 237 of the 23,000, to be precise. If one were to pick up the most prominent ones, they would be Dubraj of Dhamtara region and Jeeraphool of Sarguja district. The expensive varieties come with fancy names - Til Kasturi, Motichoor, Cutaki Kameli, Dokra Dekri etc. One of them is also called Kali Moonch, literally translated into Black Moustache.

No discourse on Chattisgarhi rice is complete without mentioning the name of Dr Radhelal Herlal Richaria, the eminent rice scientist. Without any financial aid and not even relevant papers, a young Radhelal reached Cambridge University. It was his zeal that melted the hearts of the English deans who let him enroll for his Ph.D and the ardor once again showed forth when Radhelal completed his doctoral degree in just two years.

As the story goes, when Radhelal - now Dr Richaria - was packing for his return journey the professors blessed him and one of them remarked, "A lot of Indians choose to go back to India but I don't know how many of them actually devote themselves to the good of the farmers." Dr Richaria took this to heart and devoted his life for the betterment of the farmers. His medium - rice.

His efforts have reaped rich rewards, Chattisgarh now has nearly 3.6 million hectares under paddy cultivation with 1.2 tonnes as per hectare yield, according to Dr M.N. Shrivastava, Director, Indira Gandhi Agricultural University.

With so much happening in its fields, it is not surprising that Chattisgarh is called the rice bowl of the country. And from it come the two favorite dishes - basi and fara. Basi is simply leftover rice soaked in water overnight and eaten with tomato chutney the next morning; fara is a special preparation of rice flour.
Salfi
Between darkness and dawn there lurks the tipsy factor. Depending on when you gulp it, salfi can be a wonderful tonic or a potent drink. You can blame it on the rays of the morning.

Salfi, the sap of the salfi tree, is to the tribals what lager is to the hip. Any occasion calls for a salfi, any moment is a salfi moment. But if you ask the tree it would tell you that it waits for nearly 15 years before it can fashion the sap. A deep gash is made on an outstretched stem of the salfi tree and a clay pot hung under it. If you drink salfi before the rays of the sun begin fermenting it, salfi can be the best tonic for your stomach, but beyond dawn it metamorphoses into alcohol. And if you are wise enough you would have guessed that it is the evening salfi that gives salfi its fame in Bacchus' roster.

The little-sweet salfi, which looks like rice whey and feels like milk, is tapped by skilled tappers; it is not everyone's game. Usually, nails are hammered into the trunk or bamboo rungs driven in with a mallet for the tappers to step on. Tapping can be a livelihood, these tappers generally take 50 percent of the salfi as their share.

Typically, eaten with roasted chana or peas, there's at least one salfi tree in every kitchen garden.

A salfi tree that grows up to 100 feet can yield nearly 40 litres of sap every day, which can translate into a profit of an enormous Rs 50,000 annually from a single tree. Rainy season turn into dry months for the salfi drinkers, the tree yields no sap during these months. A salfi tree remains fertile only for three-four years, after which it is chopped off to make way for new plants.

"Interestingly, the salfi tree grows only in Chattisgarh. Maybe because Nature has been partial with the soil and its nutrients, even if you try, you can't grow salfi trees anywhere, not even in neighboring Orissa", says Bhupesh Tiwari, who runs Saathi, an NGO, in Kondagaon in Bastar district.

Red ant chutney
Next time a red ant comes near you menacingly, don't cower, look back in anger and tell the ant you can have him with your favorite munchies or you can spread him on porcelain for the eight-course dinner. You actually can.

A lot of tribals, specially those in south Chattisgarh, savor their red ant chutney as you would your avocado dip. The red ants are ambushed, handpicked, killed and when there is enough for the family dinner, they are ground on stone with a little water, chillies and salt. For that special flavor, add the onions. If you want the crunchy feel, roast the red ants in the wok, sprinkle salt and chilli flakes and munch it.

Serve it red, piping hot. Naah! Just anyway you like, it is the taste that finally matters. I am told once you taste the ants, you might throw your expensive imported avocados down the drain.

Next time, the ant stings you forgive him. For you know not what you might have for dinner. Could be him!
Madiya Pej
If you have 23,000 kinds of one thing, you might want to think of ancillary advantages. Like, madiya pej, the soup ('gruel' is a little infra dig) made of rice whey. Since there are no pressure cookers in this part of the world, rice is always cooked in open utensils and the whey strained before eating. But then what's life without that little extra advantage.

The rice whey is collected, put in a pot and allowed to simmer with salt. For the zing, throw in wheat grains or corn; for that delicious density add a few spoonfuls of the madiya seed flour. Have the soup with tomato or tamarind chutney. Drink one gullet full, dip that finger in the tomato/tamarind chutney, lick it. Drink, lick… that is the heart of the madiya pej.


Published in Discover India magazine, September 2004.