Seeking Donald Bradman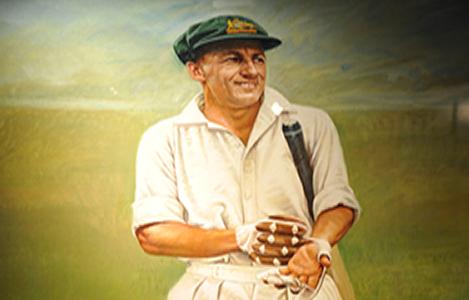 Photograph by Preeti Verma Lal
And I thought cricket was, well, all about a wooden bat, a red twine ball, a few gentlemen, a mound of grit, a hint of glamour... Not quite. Cricket can be poetic. Even take to a limerick. It could be about a cupboard cluttered with a million signatures. An old heavy cedar table blemished with boot scratches and cigarette butts. A sleepy little town that borrows its fame from one man. A red brick house where a strappy batsman grew up. A steel and glass building that soon could become the cricket lover's pilgrimage.
That cricket would be so much more than bat and ball, who would have thought that. I did not. Not until that beautiful summer morning when I stepped into the men's dressing room of Australia 's Sydney Cricket Ground (SCG). There were no men in white but on a white board in a hurried all-capital hand were five scribbled lines with a blue marker:
Our captain is named MS Dhoni
Who believes DRS is a phoney
He supports all the umps
To keep coming up trumps
I agree. DRS is baloney.
"Someone in the Indian cricket team surely is a poet. But there's more…" It was the beginning of my Sydney Cricket Ground Tour Experience when Ron Davis, the guide, laughed and pointed to another scribble – this one more calligraphic, more beautiful, more gritty.
If it's difficult, I'll do it now
If it's impossible, I'll do it presently.
Do not dismiss it as any dreary preppy message. It is signed by Sir Donald Bradman. Date: 10/12/1928 . But that was not the end of my not-so-seen side of cricket. In the Members Pavilion by a pale wall stands a humdrum wooden cupboard. Once upon a time, the cricketers hung their coats and stacked their bats in it. Now, no one cares about its vanished veneer, countless cricketers have etched their names and scores on the cupboard:
SR Tendulkar. 3 rd Test. 5 th Jan 1992 . 148*. 298 mins. 213 balls. 14x4.
Yuvraj Singh. 7 th ODI. 22 Jan 04. 139. 143 mins. B/F 122. 2x6. 16x4.
Opposite that cupboard is scratched another name. Gautam. Under it in Devnagri script is a patriotic: Mera Bharat Mahan. Not too far away on another wall is the framed original score card of Bradman's world record: 452 not out in the 1930 match at Sydney . Thereafter, I walked past the statues of Richie Benaud, Steve Waugh, Stan McCabe into the SCG Museum that houses cricket memorabilia and a 12-minute ' spectravision' show with 'ghosts' of past and present cricket identities. There's Bradman's original bat, a black and white photograph of England vs. Australia first test match at SCG on December 3, 1932 . Attendance: 58058. Gate receipt: 5763 sterling pounds.
That one summer day in Sydney , I had seen so much of the unseen cricket that I almost forgot that cricket was, well, about a wooden bat, a red twine ball, a few gentlemen, a mound of grit, a hint of glamour. Next morning, I shunned the Sydney Opera House and strapped myself for a long drive to Bowral, a once-sleepy town that now houses the International Cricket Hall of Fame.
Much before it borrowed fame from a cricketing legend, Bowral was the getaway of the monied and the mighty; now, it is a haven for retirees and empty nesters. But the thousands who drive past Captain Cook's landing point and the beautiful town of Robertson come here for one man. Rather his memory. Of the cricket's greatest ever: Sir Donald Bradman. The town's destiny was to change one day in 1911 when George and Emily Bradman sold their farm in Yeo Yeo, Cootamundra and decided to settle in 52, Shepherd Street , Bowral. George came with his carpentry tools and in Emily's arms was a little boy called Donald Bradman.
"It was in 52 Shepherd Street that Bradman whiled away time tapping a golf ball with a cricket stump against a curved course of bricks supporting the family's water tank," Shannon O'Connor, Tourism Development Manager of the International Cricket Hall of Fame thus began the Cricket Legends Tour in Bowral. Here, Bradman attended the Bowral Public School , played tennis, clanked the piano keys and at the age of 12 in the second game of school cricket took 8 wickets and scored 115 not out against Mittagong Public School .
Originally, the Bradman Museum, the Hall is now high-tech Museum with interactive touch screens that aims not only to preserve cricketing history and artifacts but also to expand Bradman's wish that "cricket should continue to flourish and spread its wings. The world can only be richer for it." In the Hall, cricket begins where/when it began – in 1334 cricket evolved from a game developed by the shepherds in southern England to pass time while guarding their sheep. And 'cricket' was first mentioned in a court document dated January 16, 1598 , when a John Derrick, a 59-year old coroner, attested that " hee and diverse of his fellows did runne and play (on the common land) at creckett and other plaies."
Thereafter, not only the spelling, even the game of cricket changed. Behind a glass pane is a 1750 cricket bat; in another corner sits a pile of Homemade Bats which includes "a well-crafted bat made by a carpenter in the Indian city of Bangalore for his son and was used in games played in the empty car park near M Chinnaswamy Cricket Stadium". There's an interview of Sunil Gavaskar when he was inducted into the Hall of Fame; a white tee signed and gifted by Sachin Tendulkar, old sepia advertisements, newspaper clipping that reads: In affectionate remembrance of
English Cricket which died at The Oval on August 29, 1882 . Deeply regretted by a large circle of sorrowing friends and acquaintances." The original curt 1928 telegram sent to Hendy Melbourne informing him of his selection into the Australian team. And letters written by Bardman.
There is so much cricket in the Hall that one could spend a lifetime gaping at the priceless artifacts and playing around with the interactive screens to know the minutest details about cricket which is now played 166 countries. In Bowral, cricket was getting under my skin, but I could not have left the tiny town without walking up to Bradman Oval and the house on 20 Glebe Street where Bradman lived between 1924 and 1928. Bradman Oval stands on the land on which Bradman, then a strapping lad of 12, scored 29 not out for the Bowral Cricket Club and years later scored 234 in the 1925 match against the Wingello team that included the fiery Bill O'Reilly. Reilly later described his encounter with Bradman thus, "he approached the wicket with what seemed like a diffident gait of a stop-gap performer…"
Bradman lived across the Oval in 20 Glebe Street . On the red fence hangs a board: "Bradman assisted his father George in building this house…." As I stood by the myrtle, I wondered whether it was here that Sir Donald Bradman sat with his father hammering nails into the planks and planting the roses. Perhaps he did. Perhaps he did not. What I know is Bradman still lives across the street. By The Oval. His ashes are scattered by the cricket ground.
And I thought cricket was, well, all about a wooden bat, a red twine ball, a few gentlemen, a mound of grit, a hint of glamour… Perhaps much more. It is about poetry. About dressing room chatter. About a once-sleepy town. About a man called Sir Donald Bradman.
Outlook Lounge, 2012