Waiting for WB Yeats in Dublin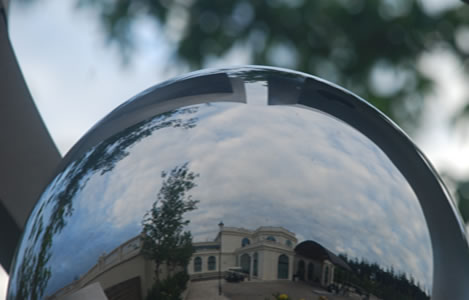 Hotel Ritz-Carlton (Powerscourt), Wicklow, Ireland
Photograph: Preeti Verma Lal
On way to Dublin I almost ran out of breath. At Heathrow airport, the immigration queue was snaky and the aircraft was parked so far off that I hopped out of escalators and ran –rather galloped - on walking pathways. I must have sprinted for too long because when I held on to the rails to catch a breath, I thought I was already in Dublin and the poet William Butler Yeats was waiting. And then a drawl of an announcement shook off my gasping lungs: This is the final call for the flight to Dublin.
Ah! So, I was seeing Yeats' apparition even before having a pint of the Guinness beer or a swig of Irish coffee in the land whose Irish name Baile Atha Cliath literally means The Settlement of the Ford of Reed Hurdles. I skipped delving into the etymology and checked into some facts about the modern Dubs: Dublin is the world's 16th most expensive city, but the Dubs sure get a lot of wages (it is the second highest for a city, much ahead of New York and London); not only is it one of the most youthful cities in the world with 50% of its population below 25, in 2007 it was also voted the friendliest city in Europe. The stats are impressive, what they forgot to add was that not only has Dublin been brewing Guinness since 1759, the gods probably mixed pentameters and sonnets in the Irish loam. How else would you explain a city that can boast of Oscar Wilde, Samuel Beckett, James Joyce, WB Yeats, George Bernard Shaw and a Jonathan Swift. All the deities of the literary pantheon had Dublin for a home. Some neighbourhood that!
And they must have walked out of colourful doors. Nowhere in the world have I seen doors making such colourful style statements – a fluorescent green next to a blood red door, an electric blue door making a stark statement next to a canary yellow. Add to it ornate door knockers, wrought iron boot scrapers and stylish fanlights. I am intrigued and ask Marlene Burke of Failte Ireland about the unusual doors. Originally, all doors of the Georgian houses were painted in the same colour, until a Bacchalian Oliver St John Gogarty moved next door to an abstemious George Moore. Petrified that a sloshed Oliver would knock on his door at night, Moore painted his door green. In retaliation, a miffed Oliver painted his door red. That is how the door fad began. Or so goes the story.
There is so much to Dublin that a day is never enough. You cannot step out of Ireland's capital without a look at the Guinness storehouse. That famous beer that has become synonymous not only with the followers of Bacchus but also with world records. There's the Trinity College where once famous litterateurs like Oliver Goldsmith and Samuel Beckett took copious notes as students. The city being so youthful you cannot escape the smell and sound of Temple Bar, an area cluttered with night clubs, pubs and unusual shops. .
If I were Leopold Bloom, James Joyce would have chronicled my one day in Dublin, just as he had done for his protagonist in Ulysses. I am no Molly Bloom either, breaking into an unpunctuated soliloquy that stretched to 4,391 words. No Bloom, but I can still write reams about Dublin. But I am not spilling everything. Not yet. I need to go again. You see, I have not yet met WB Yeats. I could pitch a tent in Dublin forever, if Yeats promised to stop by.
Back on my toes and senses, I knew Yeats would never come, so I head to the Ritz Carlton (Powerscourt) in Wicklow county. The gardens are laden with the scent of flowers, water trickles like a harp's string in the courtyard and in the steel sculptures the beige façade of the manor is reflected in glory. Inside, the calla lily leans statuesquely out of glass vases and pretty woman in blue plays the harp mellifluously. I could have curled up on the sofa all night listening to the harp, but the chef was waiting in the kitchen. At the Chef's Table. A table inside the kitchen wherein you can see your food being cooked, This is no ordinary fare – I was pampered with food so sumptuous that I wondered whether the gods ordered their business lunches from Ritz Carlton.
Or maybe they have a takeaway option from the Waterford Castle restaurant in Waterford. The food is certainly fascinating, so is the ride. You drive your car up on a ferry that is pulled by a rope to the other bank where the castle has been standing since 14th century. The ivy on the walls and the deer lopping off in the garden add to the old world pastoral charm. In Waterford I was to see how the world's best crystal is made and on a walking tour with Jack Burchaell I stared at the tower that was made of animal blood, animal and human hair. While the tower was being built, Waterford had become a sea of bald heads. Everyone contributed towards the making of the tower! Those hairy donations must have worked well, for it is the only tower in Europe which has been in continuous use since its construction in 1003. I walked by the house of John Roberts, an architect who not only built Catholic and Protestant churches (the only architect in Europe to do so), but also, as Burchaell puts it, "helped populate the nation." He had 22 children!
James Joyce once said, "When I die, Dublin will be written in my heart". For me, Death seems too far away now, but while I am alive Dublin will always be written in my heart.

Published in The Economic Times, 2008