Aqua Cool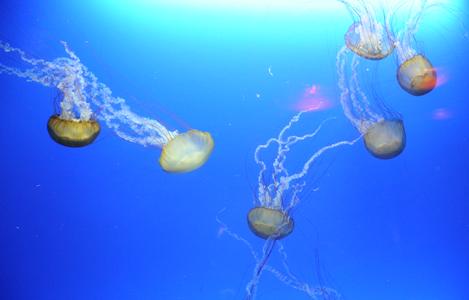 Photograph by Preeti Verma Lal
What happens when an Oscar-winning music composer, flame bowls, dragons, pandas, pyrotechnics and an intriguing story come together on a lagoon? A smash hit on celluloid, did you say? Well, it is a smash hit, but this is no ordinary silver screen and no ordinary venue. It is the world's first and only 360-degree water screen in Aqua City , Hong Kong Ocean Park 's latest attraction. That is not the only superlative in the Park that is spread over 88.6 hectares and was ranked by Forbes magazine as the one of the Top 10 Amusements Parks in the World and one of the 50 Most Visited Tourist Attractions in the World.
Step into Aqua City and you'd feel you have slipped deep into the ocean. At the entrance are sculpted sea horses and turtles and by the lagoon is the blue Grand Aquarium that resembles a colossal pearl held taut by gigantic yellow tentacles. In Sea Life Carousel, clichéd horses and carts have made way for dolphins, sharks, and carps, and in Neptune Restaurant you can dig your fork into rock lobsters and scallops and watch Manta Rays, Hammerhead Sharks, Napoleon Fish and Bowmouth Guitarfish gambol in glass tanks.
The Grand Aquarium, of course, is the cynosure of Ocean Park 's USD 750 million development plan. Sprawled over 200,000 sq.ft. the Aquarium has its share of firsts and onlys – the world's largest aquarium viewing dome (5.5 metres in diameter) and a 13-metre wide viewing panel; the world's 9 th biggest aquarium by tank volume (5,44 million litres of water); and Hong Kong's first swirl tank. In the 11-metre deep aquarium live 5,000 fish of 400 species including the hammerheads sharks, bioluminescent fish, giant spider crab, the largest crabs in the world that can live up to 100 years!
In the Lagoon that forms the heart of the Aqua City , fountains are choreographed skillfully for 4-minute shows called Sea Swell, Coral Chorale and FantaSea. However, the Aqua City is at its glorious best after the sun dips into the South China Sea and iridescent stars pop up by the surrounding hills. At 7 pm , the water screen lights up for the Symbio, a water, fire and special effects show. Oscar-winner Peter Lehman has composed the score for the show that draws out the symbiotic relationship between man and nature. When fire bellows out of underwater bowls, fountains acquire fluorescent hues and dragons and pandas flit in and out of the water screen you know Aqua City is the place to be every evening. And it is time to sit in the Aqua City Bakery and order a Hokkiado Milk Egg Tart and a Forest Berries Mille-Feuille.
Swagat, 2011