Feeling like an angel in Netarhat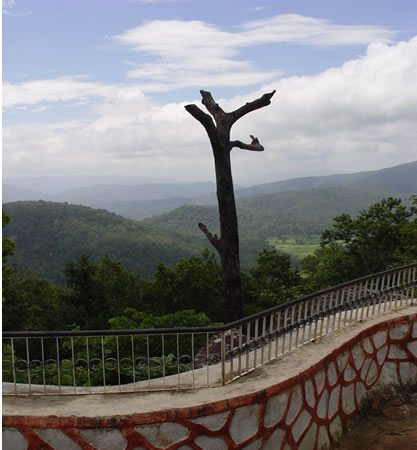 Photograph: Preeti Verma Lal

I could feel the clouds everywhere around me - finding its way between the shapely legs of the sal and the pine, on rooftops and even on the red hibiscus that peeped from behind a hedge. I felt the clouds on my skin too. Let me admit, that moment amidst the clouds in Netarhat I felt like an angel. All I needed was wings…

What's in a name? The bard would have quipped. Perhaps there is, specially if it is a distorted name that is near the heart. Forgive the pun, but Netarhat is actually an imprecise interpretation of 'Near the Heart'. The verdant hills, the meandering streams and the salubrious climate reminded the Scottish Raj soldiers of their home, made them homesick and they referred to it as a place 'near the heart'. Or, so the oft-repeated story goes.
But I would stick to the bard, what really is in a name? I forgot all about Scottish soldiers, their homesickness, the warped name and conjured images of luscious naspatis (pears) that are laden in the orchards of Netarhat; I thought of the sun dipping at Magnolia Point where I could hold hands and walk into sunset; I remembered the cool breeze that teases your curls when you drive up 3,622 ft above sea level; I mused about the waterfalls that hurt the boulders and fall like a crescendo from what seems like heaven and I dredged up all stories about how in Netarhat the feathery clouds wrap around you.

With so much some 160 kms away from Ranchi, I was all eager to drive, I did not so much as spare a thought for the haze and the drizzle on that autumn early morning. Westward we go, I knew that much about the road to Netarhat but I did not dawdle at the map; I switched on the music and looked out as lush green paddy fields and casually built houses flitted past me. That was not all though - on way were narrow streets crowded with trucks and buses hurrying towards the local bazaar, there was the smell of bitumen and men dripping with wet mud building roads and bridges… Miles stretched into many more miles as I crossed tens of villages and small towns, but Netarhat seemed like a distant dream - just too far away. At Ghaghra, I, a little impatient and a little sore, rolled down the window to ask "how far is Netarhat?" Oh! Netrahat? "Not too far." Assured and happy, I changed tracks on my cassette player and drove on. But boy! Did I bargain for this? I do not mean to scare you, but there are such awful potholed patches that you might want to hold on to your rib cage before a rib or two rebels and falls off. I could see labourers mending those patches and working on bridges and I envied the travellers who would tread that path in a couple of months, but I had to go on on those potholed roads and I looked for distractions or temptations, whatever came my way.
I craned my neck out and the first thing that I noticed was the colour of the loam. It is not the usual brown, throw in a little magenta for a slightly maroon soil. Even the puddles looked like crates of muddled orange squash and cappuccino. On the right the valley takes a scary depth and on the left is elevated land sliced abruptly to carve a road and on that brown canvas you could see a wide variety of ferns, wild flowers and roots of larger breaking out of the hills' skin and rivulets hurtling down with a murmur. On higher ground are pure patches of sal, pine and bamboo and rare eucalyptus. Amusingly, if you look at these patches carefully you would feel as if these trees live in their own ghettos,- one family of pine living next door to a family of sal, not mingling but conversing like happy neighbours.
These distractions held me in good stead for some miles but impatient was creeping back in the wilderness. I rolled down the window and waited for someone to cross my way so that I could ask about how many more miles to Netarhat. A few moments later an old man in white head gear, white dhoti-kurta, a stubble and stick walked out of the haze like an apparition but his answer was not too plausible. Oh! Netarhat? "Not too far." I said a polite thank you, but drove on. I knew I would not enquire again and I kept that promise to myself. Many more miles and finally I saw what looked like a red-tiled roof. I smiled in glee and exhaled. At last, I was in Netarhat.
Spread over 50 sq.kms. Netarhat evokes two strong images - that of bright boys studying in Netarhat School and the sunset at Magnolia Point. About the school, first. Established in 1954, once upon a time Netarhat School was like the pearly gates of heaven, all young boys wanted to be enter it, such was its reputation. Set up in the tradition of gurukul, students of the School still call their teachers Shrimanji, the female teachers are addressed Ma, the hostels are Ashrams and not for them an evening out in the discotheque or a warm cup of cappuccino in a café. They live like hermits, playing cricket on an improvised pitch on Sundays and on other days poring over books or learning carpentry and other skills. Sounds like a monastery? Well, to an extent it is, but it has churned out more bureaucrats than a lot of other schools clustered together.
If the School is all about academics, Magnolia Point (strangely, most locals call it 'Mongolia Point') is about poignant love. Nearly 10 kms from Netarhat is this famous spot which takes its name from Magnolia, a young British girl smitten with a local tribal shepherd. According to a granite plaque at the viewpoint, Magnolia's love for the shepherd was derided and when she realized that her love would remain unfulfilled, the forlorn Magnolia plunged into the valley with her horse. It is to this love that the sun sings an elegy every evening as it enters into the lap of Vindhya Hills. Beyond the rails of the viewpoint is a tall, naked tree that adds to the allure of the viewpoint. Next morning when it is time for the sun to rise be at Palamu Bungalow (Bunglow, as they spell it. Ignore the spell error, though) and walk up the pink watch tower. You can get a bird's eye view of Banari village and as the first rays of the sun fall on Koel river, it turns crimson and makes the moment unforgettable.
After all the driving and the creaking bones, I realized the clouds were the spoilsport, I could not see the sunset. But there's always something that compensates for such star-crossed days. A local kindly readied to show us the nashpati (pear) orchards that stretch for acres and acres. The last of the nashpatis had been plucked and sent to Kolkatta and Ranchi, but the local painted a vivid picture of boughs laden with pears touching the ground, so many of the medium-sized pears grow on these not so tall or stout trees. Keeping company to the pears are guavas that also grow in abundance in Netarhat. The lush paddy and maize fields add to the various tinges of green that you see in this rather pristine land.
As I crossed the Netarhat Dam, turned my back and headed towards the canteen for a meal, I could feel the clouds everywhere around me - finding its way between the shapely legs of the sal and the pine, on rooftops and even on the red hibiscus that peeped from behind a hedge. I felt the clouds on my skin too. Let me admit, that moment amidst the clouds in Netarhat I felt like an angel. All I needed was wings…
Published in Discover India magazine, November 2005