Kenyan Safari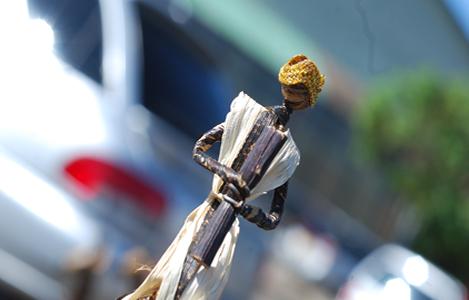 Photograph by Preeti Verma Lal
"You cross hemispheres in a hop? Are you quicksilver? Or, did you steal the cheetah's hasty pace?" At 6,839 ft above sea level in a dusty village of Nanyuki , Fiona Ngesa's questions had me flustered. Hopped over hemisphere? I thought I was tardy as a tortoise. In Nairobi National Park , I had envied the cheetah's rosettes and her dark teardrop, but borrowing speed certainly was not on my Kenyan agenda. And I sure could not have metamorphosed into quicksilver on a diet of kale and ugali (steamed maize porridge). So, did I really hop hemispheres? Or, was Ngesa squinting?
"Your left foot is in the northern hemisphere. Your right in southern." Ngesa continued with the hemispherical palaver and I stood intrigued until I saw the yellow signboard standing precariously by the street. The board with zebra legs and a red band cutting through the map of Africa read: This sign is on the Equator. Whoa! I was on the Equator, where there is a constant 12 hours of day and night throughout the year. I whooped. Before I could jig on the imaginary line that sprawls at zero degree latitude, a man lithe as a hound with a punched pink plastic mug in his swarthy hands had begun geodesic lessons. "You see, water in the southern hemisphere swirls anti clockwise and…." He began with a drawl, holding a mug with a hole.
In Nanyuki, I was distracted. I shunned the physics lesson and headed to shops with tin roofs where matronly women in elaborate headwraps were hawking handwoven Masai fabric, cotton chintz sarongs with verses woven in Swahili, tubby men hewn out of ebony wood, lissome women made of hay and corn leaf and dried gourds beaded as water carriers and painted as porridge bowls. I tried a kanga (sarong) with orange pansies and the wail of a lovelorn, "I love thee, yet you are so far off…" I have never draped a poem over my brown skin, but sarongs with proverbs or riddles are oh!so Kenyan. I tittered over the thought of a poem on my posterior and picked a canary yellow kikoy, a versatile East African wrap that can be worn in a thousand different ways. However, when I tried wrapping it like a skirt, it hung precariously from my waist.
"Safety pin, anyone?" I pleaded. " Japo sipati tamaa sikati." Ngese mumbled and I looked askance. I was not sure whether Ngese was whispering a prayer for my precariously hung kikoy or to see lions in Sweetwaters Game Reserve. Actually, she was repeating the proverb printed on her kanga, Even though I have nothing I have not given up the desire to get what I want. That moment, all I wanted was a safety pin. The lions could wait.
The lions lay barely 17 kms away in the 110,000-acre Ol Pejeta Conservancy that sits on the Laikipia plains. Not only is Ol Pejeta home to the Big Five (lion, elephant, buffalo, rhinoceroes and leopard), it is the largest black rhino sanctuary in East Africa, the only chimpanzee orphanage in the country and has the highest area to animal density ratio of all Kenyan national parks. As the jeep manoeuvred through savannahs, the snarl of the hyena and the whistle of the starlings melded with the squawks of raucous pelicans and drumming sound of the ostrich. The jeep rattled on dirt track but I stood on the seat for the glimpse of the mighty cat. With sundown, the mercury fell dangeorusly and I could feel the chill breeze flirting with my long hair. Faraway, the peak of Mt Kenya glistened in the burnished orange of the setting sun. At Sweetwaters, I did not have to crane my neck for a look at wildlife – antelopes sprinted fearlessly, buffaloes chewd lazily and an elephant walked with a swagger fit for a monrach. It seemed as if the angels had unwrapped a beautifully illustrated jungle book and animals were walking out of the pages to complete the story.
That night, the jungle safari did not end with the last hiss of the engine. It continued by the dinner table in Rhino Restaurant that was home of the manager of this once-upon-a-time colonial farm. As if to live up to the name, a horned rhino moseyed up to the large waterhole and walked past a family of boisterous warthogs and graceful zebras. It was cold in the restaurant, so I moved to the Kashoggi Bar where logs were crackling in the fireplace. I dug my fork into sukuma wiki, a kale dish, and travelled back eons to the era when the Bantu-speaking tribes of Kenya traded with India for ivory and slaves and of the day when Vasco da Gama landed in Mombasa in 1498. I wondered what would have been on my dinner plate if the Portuguese had not carried sweet potatoes, maize and peppers into Kenya and if the Indians who were brought in by the British as labourers had not stuck to their chappatis and chutneys. You see, in Kenya, being a vegetarian can be sacrilegous. Honestly, I was ready to chew on grass. Thankfully, I had spinach and kale. And ugali, the staple Kenyan breakfast.
If cudding spinach could turn one into Popeye, in three days, I could have become a Popeye clone. I did not. For there was the long drive to Lake Nakuru, which literally means dust or dusty place in Masai language. Dusty it sure was on way to Nakuru, one of the Rift Valley's soda lakes, but I was not paying heed to the dirt caught in my skirt's hem. I was pulling out my Wellingtons to walk by the Lake's swampy bank to see millions of flamingos line the shores and paint the entire landscape in their disticntive fuchsia pink. The huge congregation of flamingos is often called the greatest bird spectacle on earth. 'Greatest' might be an exaggeration, but the abundance of pink and the crescendo of legions of flamingos honking and babbling turns the lake into a theatre where the flamigos vie with pelicans, cormorants, white rhinos and baboons for an ovation.
That evening, I wanted to steal the pink off the flamingos, but a brusque voice on the walkie talkie interuupted my plans. "Three lions on the tree… Go. Go…," a man rattled off in his baritone and the driver hurried to the spot where the lions were seen a few minutes ago. I was still yearning to be with the flamingos but as the engine revved on the dirt track, a hush fell and there was flurry of flashlights from the innumerbale safari jeeps laden with excited tourists. On the baobab were three lions, nonchalant about the muffled hullaballoo around them. With naked eyes, they seemed liked a brown blur, but when I trained my lens on them, I could see the blonde mane and the black tail tuft. The lions look so majestic and I wonder how hunters can ever kill something so beautiful.
Four days in Kenya and my itinerary and journal was already cluttered with animals. And more animals were lined up for the remaining two days. In the emerald green waters of Diani island, I had to go snorkelling, and in Mombasa, I had to see the elephant tusk gateway that was built in 1952 to commemorate the visit of Queen Elizabeth. But before all I could slip into Speedo, wear swimfins and adjust the snorkel over my ponytail, I sat with a Masai and tried drumming to perfection.
I am sure my notes were discordant and the Masai beads looked anomalous with black spandex sheath, but in Kenya, you cannot but fall in love with all things Masai. At the Masai market near Nairobi's Wilson airport, I bought a dried gourd. Perhaps when I get back home I would wear a kanga and feel like a Masai. The Swahili proverb on my kanga is: Japo kidogo chatosha kwa wapendanao (A little is enough for those who love). Touché!
Outlook Lounge, 2011