Muscat Memoir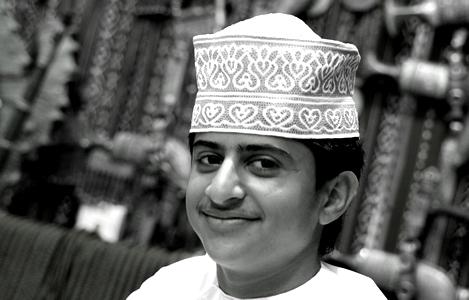 Photograph by Preeti Verma Lal
Khalas. Khunaizi. Khasab. Naghal. Qashkantrah. Bunaringah. Muscat was sizzling in the midsummer afternoon sun, tall men in traditional dishdasah and embroidered kumah (toupee) were scampering to work, cars were whizzing past gleaming homes and Ali Darwish Ali Al Hashliali, the Zahara Tours (www.zaharatours.com) driver/guide/interpreter was muttering names in his guttural, very-Omani brogue. The mercury was soaring swiftly towards 50 degrees Celsius but there was not a sweat on my brow. Instead, temptation was devouring me. Bunches of luscious temptation hanging from date palms – in burnished yellow and ruby red. Dates! Yes, I was eyeing succulent dates hanging like chandeliers from the date palms. I wanted the ruby red dates.
"Khalas," Ali smiled. Khalas? I knitted a brow. "Yes, khalas is the red date variety and the most expensive one," Ali clarified. Ah! So, all that he was muttering in his Omani brogue were names of date varieties. "The best dates are in Nizwa," Ali threw the bait. In the Sultanate of Oman, Islam began in the ancient city of Nizwa , which is also known for its splendid 17th century fort and the Souq. Nizwa was a two-hour drive, but for khalas, I was ready to saunter around the equator barefoot.
I thought I'd drive to a date farm, but when the Land Cruiser screeched in front of the Nizwa Fort, I was disheartened. Where are the dates? "Step in. Stand under the falling shaft," Ali instructed. There were no date palms; all I could see was a warren of dark staircases and burly wooden doors with metal spikes looking ominous. Under my brown mules was a murder hole and above me a brass plaque with The Falling Shaft etched in black. A murder hole? A dingy staircase? My heartbeat sprinted. I had booked an IndiGo Get Packing deal to Oman and I sure did not want to slither into the murder hole. "1, 2, 3…Here are the dates". I closed my eyes and cowered under the imagined tumble of dates from the shaft. Minutes ticked, my heart raced hastily, but there were no dates. "You are not the enemy, so you do not get dates," Ali thumped the wall, guffawed and when the peals died, he narrated the date story.
Yes, Nizwa is known for dates and in the Fort built by Sultan in Saif Al Ya'rubi, boiling date syrup was poured from the shaft to quell the attacking force. I shuddered at the thought of using boiling hot date syrup as a weapon of war. But history bears testimony that this ingenuous weapon killed many an intruder and invader! My date date would have fizzled in mere story-telling if an old Omani man had not generously offered a handful of khalas in the Nizwa Souq. I have never had fresh dates, now, for khalas, I am ready to barter a kingdom!
Back in Muscat , an inch of skin-show turned out to be my nemesis. Outside the Sultan Qaboos Mosque, I became a sartorial disaster. My full-sleeve linen shirt and red head scarf were admissible, not my ankle-length trouser. Between my leather pumps and white trouser, an inch of skin was bare. I could not enter the mosque 'uncovered'. I acquiesced to the dress code. Under the shade of a neem tree, I pulled a red salwar over my white trousers. I sure looked ridiculous, an unforgivable fashion faux pas, but being 'all covered' I was good to go into the mosque that is built from 300,000 tonnes of Indian sandstone. The ground beneath my feet was burning, but I wanted to see the world's second largest handwoven carpet. Nearly 600 Iranian women weavers hunched over the loom for four years to weave the 60 x 70 metre carpet that has 17 lakh knots. However, it is the glimmering chandelier that took my breath away – an exquisite 8-tonne chandelier with 1,222 lamps. Wilting with heat, I caught a breath in the adjoining Islamic Centre where Ahmed Zakir Salim Al Asdinsalam offered cold water and a lesson in Islamic culture.
That culture lesson prompted a visit to Bait Al Zubair Museum, a private museum housed in one of Oman 's architectural icons. Divided into four separate buildings, Zubair is one of the best collections of Omani artefacts that spans several centuries. Behind glass panes are displayed khanjars (Omani dagger) with rhinoceros horn hilt, its sheath embellished with silver thread; silver anklets, coral jewellery, old utensils, traditional dresses, old muskets and even an antique Indian wooden door…
My mind buzzing with Omani history, I walked into darkness. Literally. Into Al Dhalam (darkness in Arabic) Souq, also known as the Muttrah Souq, often touted as the oldest marketplace in the Arab world. In the beginning, Muttrah was built of mud and palm leaves and it was so dark inside that traders carried lanterns even during the daytime to find their through the dim labyrinth of lanes. Muttrah is now the one-stop Souq for all things Omani – from embroidered kumah to tasselled scarves, frankincense, dates, kohl, clothing, artefacts… Everything under the sun can be found in the Souq, where dhows still throw anchor in the world's largest natural harbour.
Three days whizzed past and I had still not soaked all of Muscat . I perhaps need a lifetime to see the Omani capital. In three sweltering summer days, I have tanned to the colour of kahwa, the Omani coffee. I, however, am not rubbing the tan off. I am back home and it reminds me of the chivalrous Omani men, the dainty women, the ruby red dates, the square garden of Sultan Qaboos Palace, the golden dome of the Grand Mosque, the aroma of shark soup and the sweetness of Umali, a soufflé-like dessert.
Perhaps, I'd book another IndiGo Get Packing deal to Muscat . I am ready to get tanned to the colour of kahwa. Again!