Naked statues & a 'Salaam' in Oslo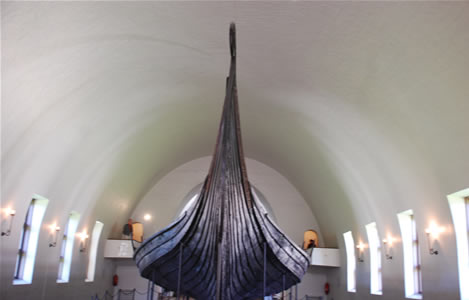 Photograph: Preeti Verma Lal
"Salaam." It was a dark night, the stars stupefied in the sky, the trees slumbering, the streets forlorn; Oslo with its undulating landscape and droning with a language I could barely decipher had looked so unknown, so unfamiliar. Till a moment ago. And then I heard the 'Salaam'. I thought my ears were ringing with known sounds, but there he was opening the door of his swank Mercedes van. In one large syllable, that Saalam in Nizami Ali's baritone suddenly drove away all strangeness from a foreign land. Even the forlorn streets of Oslo looked so apna, in haste Oslo looked like a neighbour's house and I was happy being there.
Perhaps the day began with a certain Indian-ness that I start missing after a week in Europe – in the sea of blonde heads, I look for a thick plait decked with jasmine that you can smell from two miles away; after all the pasta and hash browns on my dinner plate, I long for the aroma of cardamom and the scrumptiousness of a pakora. Whatever miles you trudge, how many air miles you add to your frequent flyer, that warm feeling of being an Indian is never forgotten. At least, I don't.
Ah! Yes, the day and the certain Indian-ness that I began talking of…Oslo was bustling with its morning madness; cars whizzing past at the speed of light, people hurrying as if there would be no tomorrow, the coffee brewing incessantly and crowds with fallen jaws looking at naked granite bodies in the Viegland Sculpture Park. Making his weekly moolah, a juggler was exhorting people to cheer loudly; some moseyed up to him, others walked into Bombay Darbar, the popular Indian restaurant that proudly displays a newspaper clipping about the chef "being the best in town". There the chef was – brimming with the owner, a Sardar proud in his turban and long beard. Even before I could ask how good the food was, Matilda, the lissome guide, listed all the joys of the Indian aroma and how the Norwegians loved the naan and the tikkas. Far away in the horizon an Ali Kaffe blinked its neon lights gloriously. That was not all, though. Even in Christiano, a hip restaurant by the Parliament known for its wacky décor there stood an antique tin plate that read: Yog Tea from Agra. That day in Oslo I saw so much of India that I wondered whether it was because of the 40,000 people of India and Pakistan who have been living there for ages or is it because India is just so beautiful. The latter thought had an upper hand and I decided to adhere to it.
Nizami was to drive me back in his Merc from the restaurant, it was my last night in Oslo. But this time I was not in a hurry, I could have listened to Nizami's stories of his family in Pakistan and his love for India told in chaste Punjabi. I felt I was home, even though I was thousands of miles away. Shukriya, Nizami.
Jostle past the crowd in Indiska, a retail chain that stacks things from India and you would know why India is so beautiful. Indiska had me completely flummoxed. More because of its age and history – it was established in Stockholm in 1901 by Mathilda Hamilton, an enterprising Swedish woman, who had lived in the Himalayas between 1894 -1901. She was married to a pastor but religion was not all that enamoured her; she had a nose for spices and money and that is how Indiska started. In its 106 years, the chain has become synonymous with all that is chic and modish. At their tea salon in Hotogret in Stockholm they sell lassi (who would have thought that!) laced with raspberry and vanilla. Well, you also get bread and raita and a thali meal (they call them lassi, thali and raita, no Swedish tongue-twisting translations here!). If you want to get a peek into this Hurry Curry set up food creator Kotta Voltaire, go to the website – you would be as bewildered as I am – there is a picture of an old Indian man with thick white moustache wearing a Gandhi topi! Today, ask an average Swede about this fashion store and she would tell you "I go there when I feel rich. When I want to look like a princess I buy Indian jewellery from there; when I want to deck my home I pick up furnishings from there…" In the 1960s, Indiska was known for its cotton Indian kurtas, today, they sell bandgalas to embroidered jackets to stunning beads and silver. In the quaint lanes of Gamla Stan, the medieval town in Stockholm, instead of looking at the moose and trolls or the beer menu in Glenfiddich Warehouse No.68, I ogled at the chintz and the georgette from India. On the cobbled path, I got wobbly with pride.
The afternoon was spent in the gorgeous Gamla Stan and when dusk fell, I walked up the rolling lanes, hiding from the rains under awnings. My stomach was growling and I could see food everywhere but nothing tempting enough to hold my steps. But very soon, something did. Anna Khan. A liveried Swede opened the door into Anna Khan. I noticed the dark corridor through which piped a mellifluous strain that was getting drowned in the chatter of the foodies. Anna was a Swede married to Pakistani and together they set up Anna Khan that completely revolutionised what the Swedes had on their weekend dinner plate. They could pick from the garlic naans to the lacha parathas to kashmiri chooza, palak panner and dal makhni. If you thought that the fare is clichéd, think again; at Anna Khan, it is not in the name, the truth lies in eating. Nowhere in the world has the Indian food tasted not just utterly sumptuous but also so authentic. I would die for the green chutney at Anna Khan – if only I could find space to curl up and die, that is. On Friday and Saturday nights, all of Stockholm seems to become Indian, queuing outside the nearly 20 Indian-Pakistani restaurants that dot this beautiful city of 14 lakes. When my stomach stopped growling and my soul was satiated, I needed a masala chai to conclude and be up early to catch a flight to Bergen, a UNESCO World Heritage City.
As I fastened my seat belt and looked out of the aircraft, the blue of the Baltic seemed interspersed with the white of the frothy wanton waves and a random thought gnawed at me: I thought that was the end of my Indian connection in Scandinvia, I sure would not see any traces of it in Bergen, the old-world fishing village. I held on to the thought, a little wistfully; I had not forgotten the guttural Salaam in Oslo or the whiff of cardamom in Stockholm. But not too long – I pick my baggage and manoeuvre my way out of the unending sea of blonde heads And then I see him, an old Sardar being greeted by a little girl, her hair caressing her waist and her nose ring resplendent in the borrowed sunshine. I stood there for a moment partaking in what looked like homecoming. Perhaps the old Sardar felt my gaze, he turned and smiled beatifically. That moment, thousands of miles away from home, it felt like family.
It had been a week in Scandinavia and I had soaked in the vignettes of a foreign land. Well, I did not wear jasmine in my long hair but every time my knees went wobbly with pride about all things Indian, I felt a quiver in my heart. I will go there again. All I want to know is when I go to Rovaniemi, Santa's village in Lapland, for Christmas will Santa, like Nizami Ali, say Salaam. Santa, would you grant me that wish this Christmas?
Published in India Currents (California), 2007