Meat in my bean soup & a brush with security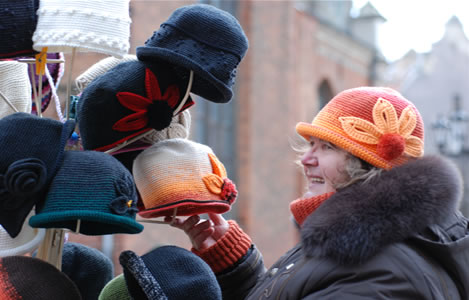 Photograph: Preeti Verma Lal
Much before I bumped into the legendary lissome Latvians, it was fuss that fell my way. The lady in olive green fatigues looked at my passport and stared from under her spruced coiffeur. "What business?" "What bring here you?" Her broken English was distracting. "Write. Pictures take. India. Journalist." Her flawed English was so contagious! She could not fathom the whys. In the ensuing minutes more syntax got ruined and more sweat lined her eyebrow. She was incensed (trust me, exasperation in busted English can be quite hilarious!), I unnerved. Perhaps out of sheer frustration, she let me in. Into Riga famous for its beautiful women, black balsamic drink, red taxis, myriad churches and art nouveau architecture.
Stepping out and bundled in the ubiquitous red taxi I gulped some fresh air to wash down that dreadful English and the distressing mien. In Riga, the air is crisp and ripe, like its history which has lived its olden reputation as an important seaport, where once money was so abundant that women wore two fox furs, bathed in perfume and even the French envied their patisseries and boulangeries. Then came the bruises of the two World Wars…pulling down of old buildings, a Communist regime, strife, skirmish and much later an independence. Driving past shriveled oaks and elms that look eerie in their nakedness and ornate facades that bore testimony to the decorative art nouveau architecture, in Riga the ancient and the modern, the flamboyant and the ragged seem to walk on the same cobbled pathway, each making way for the other, each living its destiny graciously.
I had heard of the mellifluous dainas packed in quatrains that lend Latvia "the singing nation" sobriquet, but I did not see any long-haired, drop-dead gorgeous Latvian strumming a guitar, instead I heard the 60-year old trolley buses chortling down curly tracks and the old clock tower announcing the hour vociferously. I was to slam into more antiquity in the Metropole Hotel, Riga's oldest hotel, where room numbers are hand painted on wooden doors, the carpeted elevators have numbered buttons that look like tiny piano foot pedals and the housekeepers wear laced apron and caps that seem borrowed from Red Riding Hood's wardrobe.
In my leggings and mules I almost looked futuristic in the old town, until a bunch of young raucous Brits with stuffed backpacks broke my reverie. The boys were boisterous and keyed up for the stag party. They are not the only ones in smoke-filled pubs in Riga; innumerable Europeans swoop down this tiny city for fun-filled nights before they get into tuxedos to say a somber "I Do." Asking me the why? Well, beer is cheap, the casinos glittery, the women exquisite and the nightlife vibrant.
But I was in no mood to sin. Instead I walk down a tunnel to the zeppelin hangars that have been converted into Europe's largest closed market. It is raining, my shoes are squelchy and I am a little early. Women in downy jackets and rubber boots are stringing plastic sheets on wooden poles for the open market where fresh produce and flowers are sold. I remembered what the guide book said, "Beware of pickpockets!" and clutch tight. The hangars by the Daugava River are no blimp hangars, they are so huge you could fit a squat town in it. In one hangar truckloads of dead animals hang by large nails, the sausages are so colossal that it could feed a hungry nation. I pull out my camera but before I could frame a shot, I feel a tight grip around my arm. I look up, it is a burly uniformed man chiding me in his raspy voice. He is too brusque and too beefy for me to protest or plead. I retreat quietly.
And hop into a City bus audio tour that drives through the main thoroughfares and monuments, pausing for moments as the audio spools the history of the town that sits by the Daugava River that was dug by heavenly animals on the orders of the gods. There is the Suspension bridge, the canary yellow Riga Castle where the Latvian president still lives, the TV tower that scrapes the sky, Hotel Latvija which was once the haunt of KGB officials who kept an eye on all foreigners, the brown-bricked Academy of Science which is known as Stalin's Cake, the Laima Clock where lovers meet, the freedom maiden that holds three stars in her hand, the street where the executioner was poled, the bridge where couples kiss and lock locks in the hope that they stay locked in love and the countless churches that shine even on a glum, gray day.
I could not count the churches, they were at every bend. It is the only country in Europe that has five different religious denominations with their own houses of worship. That explains the churches. But the decorated windows? Each window seemed like a piece of art fit for a museum. I have not seen such pretty windows anywhere else. The fascination for art nouveau or Jugendstil architecture explains that. One could spend a lifetime gazing at the windows in Riga. But I just had a few nights…
And I was hungry and feeling old-worldish. I hop past oak barrels and gingerly walk down dimly-lit creaky stairs into Rozengrals, an 800-year old wine cellar that has been turned into a medieval restaurant. The women are in puffed sleeves, bread is wrapped in coarse cloth, huge bells hang on the parapet, rabbit meat is served with roasted garlic and the washroom looks like a Victorian John. I am famished and slurp on the wild mushroom broth that is infused with fresh herbs. In a corner the traditional grey peas sautéed in garlic and onion wait for the fork to dig in…
I am sated and my eyelids are drooping…As I step out the portly usher in velvet cape hugs me a good night. In my room, the housekeeper has scribbled a "Have a good night" note. That moment I forgive the fuss – and the broken English - at the airport.
I want another day in Riga.
Published in Mail Today, 2008