S(e)oul Talk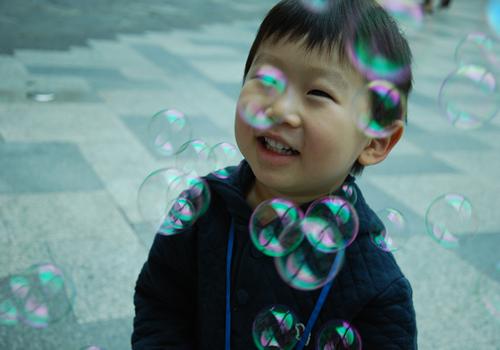 Photograph by Preeti Verma Lal
"T
he b%*&@ is beautiful. Very beautiful. All the b%*&@es are gorgeous". Looking staid in beige parka and a polka tie, Jun K Park (Tommy), the guide, barely seemed the kind to drool over svelte women. Seoul was freezing and even the most stunning of the girls were bundled in tweeds and leg warmers. Sitting in the back seat of the SUV, I was intrigued by Tommy's repetitive fuss. And then as if in a stroke of wisdom I realised that Tommy's glee was getting lost in translation; actually inflexions of the 10 vowels and 14 consonants of the Korean language. Tommy, of course, was talking of beaches, of silken beaches and the beryl ocean that rims the tiny island which first heard a human footfall half a million years ago and flaunted its own kingdom more than 2000 years before Christ.
The kings then built wooden palaces with paisleys painted in indigo and eunuchs as courtiers; men wore jeogori (jacket) with baji (trousers), danced to the lilting tune of the gugak (the traditional Korean music), rubbed granite for that exquisite bluish-green celadon pottery, and dainty women with porcelain skin stacked kimchi for winter before the land slipped into a sheath of snow. But the Seoul that my aircraft screeched into seemed to have stepped eons beyond the lore of munificent kings, lithe concubines and the land that rose phoenix-like from the ravages of the Japanese occupation. As I drove past the modern Incheon Airport , skyscrapers peeped out of the bare sky and millions of neon lights flickered on every street. Faraway the 63-storied Seoul Tower stood lofty enough to touch heaven, its tall torso blinking in fuchsia, silver, blue and yellow within seconds, while at every bend dwelled numerous cherry trees, their leafless boughs laden with white blossoms. The weatherman blithely chirped of spring in Seoul but blame it on global warming, Seoul was unusually windy and frosty and I was not even carrying a yarn of wool.
But in the darkness of Nanta theatre I forgot all about the pullover I had left behind at home, I was foot-tapping to unusual music, music created by spoons, knives, woks and egg beaters, with sliced cabbages and carrot juliennes adding to the mimed histrionics. Not one cacophonous note, not one cabbage leaf discordant in its setting; the story told without a spoken word, the music incredibly harmonious with the kitchen ensemble. In the end when the performers pounded water on the drum's chest, the beaten bubbles looked surreal, the audience clapped to the crescendo and I wondered if music necessarily needs the formality of a stringed or percussion instrument. On a good day, an egg beater can outperform a bass guitar. That frigid evening it certainly did in Nanta, a must-see in Seoul .
If inflexions caught me on the wrong foot in Seoul , my shtick on vegetarianism got befuddled with meaty food platters. On the street, I saw silkworms boiled and sautéed, dry octopus stringed as munchies, tiny shells as the perfect accompaniment to shoju, the local drink, pickled crabs, and eels skinned, deboned and diced in a jiffy. Every restaurant that I walked into, Tommy would launch into an arduous one-liner the vegetarian me, "no, meat, no fish… egg okay"; I certainly felt like a grass-eater in a carnivorous world. So while on other tables bulgogi (thin strips of marinated meat) and galbi (pork or beef ribs) sizzled on the charcoal fire, I dug my spoon into bibimbap, the traditional vegetarian dish with rice, vegetables, egg and chilli paste and of course, kimchi, fermented cabbage that has become almost synonymous with Korean cuisine. Being a teetotaller I could not wash them down with yakju (liquor made of fermented rice), so I settled for sikhye, a sweet rice drink, and sujeonggwa, a heady perfusion of cinnamon and persimmon. Don't pucker your nose and dismiss these as ambrosia for the plebian, for the ones not meant for Bacchus' bar were essentials for the lavish royal dinners. Food was doing strange things to me - I could have even added a year to my life off a soup bowl. For the Koreans believe that you cannot get a year older if you haven't had rice cake soup on Lunar New Year's Day. Alas! That special day had fluttered off the calendar in January and I lost my chance!
When evening melded into night and the entire city shimmered with millions of gig lamps, I whooshed up the Seoul Tower , the tallest structure in the city. In the persistent haze that stems from the 'yellow dust' from China I could see the Han river cutting through the belly of the populous capital and high-rise buildings jostling for crunched space where more than half the country's population lives. But at the foot of the Tower it was the Teddy Bear Museum and the metal string sculptures hung between trees that had me enthralled.
The joys of childhood returned in abundance in Lotte Theme Park and Everland Park where hot air balloons flitted over the ice rink, a toy train decked with plastic flowers chugged on narrow indoor tracks and colossal roller coasters defied gravity. Roller coasters are now passé for me, instead I took to something more inane – I held a plastic kitty in hand and blew soap bubbles at the crowd and later plonked myself on a narrow bench and watched fairy tales unfold on the Garden Stage. Perhaps I looked ridiculously old and odd amongst kids squealing at the sight of Donald and Minnie, but in Seoul I was ready to soak in these long-forgotten delights.
Walking around had me wobbly in the knees, but Tommy was throwing in temptations – shopping at the Namdaemun evening street market where everything carries an affordable price tag. Stashed in the shops and on the streets are all that you would find on a fashionista's dream catalogue – what would burn a hole in your pocket in a high-end mall, would come for the price of peanuts in this market. But if you are mall crawler, Coex Mall can satiate the most finicky of all shopaholic.
Three days in Seoul had me in a tizzy and little did I know that I would rev up soon. Yes, 350 kms per hour is speed. Speeding. That is how fast the bullet train was hurtling by to Busan , South Korea 's largest port city. "Brace yourself," Tommy was instructing. "Stay connected with the world, the wi-fi on the train does not conk even inside tunnels," Tommy was throwing in the perks. "High-speed Internet on a high-speed train." He even concocted an ad line in a blink.
Flowers tidily arranged in layers greeted us at Busan, the city borrowing its fame from the country's largest fish market and the 2005 APEC meeting that had all the Asia-Pacific heads of state swarming to the city. The APEC Centre is a huge draw in Busan, but what took my breath away was the Jagalchi Fish Market where mounds of live fish tumble out of nets every morning and unending strings of dried fish hang like buntings. I have never seen such huge octopuses laying lazily perhaps unaware of their imminent fate on the dinner platter, mackerels chopped before you can blink and countless mussels emptied in one long breath. Everywhere my eye went, all I could see was fish and more fish and more….As one octopus hopped out of the tank and wriggled on the cobbled path, I felt a twitch in my heart; I knew it could not escape, for in a fish-eating country an octopus is sumptuous dinner. That's it.
"Run," Tommy screamed. The bullet train that was to take us back to Seoul was hurtling fast on the tracks. "Two minutes…" Tommy hurried. With all the shopping in Busan, my hands were full and the train seemed too far away. "Run." I heard again. I do not remember when I last sprinted so fast, my heart was pounding but as if pulled by the speed of Mach I jumped into Car No.7 before the train finally hooted out of Busan. In South Korea , every second counts, 'Train delayed' is not even a jargon. The train was scheduled to reach Seoul Station at 10.50 pm . And when the bullet train did halt, I looked at the clock. It read: 10.50 pm . That's clockwork precision and all of South Korea sticks to it to the last tick.
There was so much that I wanted to bring back from South Korea , all that I brought home was a tiny white cherry blossom. I have tucked it in my favourite book and every time I look at it it tells me the story of a land where not only are b%*&@es beautiful, everything is. When the cherry tree blossoms again, I know I would pack my bags again. For South Korea . Where else?
Published in Lounge, 2009