Dragons' Tales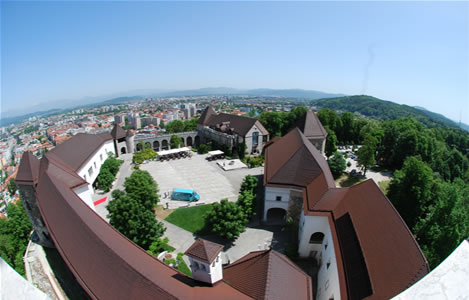 Photograph: Preeti Verma Lal
Imagine this midsummer midnight in chic Slovenian city called Portoroz. In the bar there was a bobbed Finn, a blithe Chinese, a long-haired brown Indian, a man with narrow eyes who even laughed in Mandarin, a charming Slovenian bartender, a Russian couple too fat to waltz and a singer with salt in his hair and marbles in his mouth singing Elvis Presley' Love Me Tender, Love me Sweet in a blatant Croatian brogue. In the air was a whiff of roses and wine poured from exquisite decanters. It was a balmy night but the conversation bobbled – thoughts got jumbled between Finnish, Mandarin, Croatian, Russian, Slovene and English. Forget risqué chatter, even angst could not handle so many languages! But then that's Portoroz, the coquettish neighbour of capital Ljubljana that entices everyone.
Once upon a time even monks. It was this in "pot of roses" that Benedicitine monks from the monastery of St Laurence healed obesity, dropsy and rheumatism with sea water and brine. That salted antidote was not a quirky concoction, the city that lies in the deepest indentation in the Adriatic Sea and is proud of its salt pans, had been tagged as a health resort as early as 13th century. Portoroz subsists on that fame, adding international treatment regimens to its renown. In LifeClass Resorts' Terme & Wellness Centre, you can get slathered in salt mud, herbal oil, treated with stones or scrubbed clean in state-of-the-art machines. Portoroz is pretty as a postcard and flouts its health USP, people flocking to be wrapped in fango, the mud of Secolvje mud pan. Fango might be black and slithery, but this Istrian clay is so rich in brine that everybody loves to slip into the muddy bath.
If Portoroz touts health, in Ljubljana, the capital, France Preseren stands smitten. At the doorstep of a church. It was by the pew that Slovenia's most celebrated poet first saw what looked like an apparition sculpted in porcelain. So beautiful was she. Her name: Julia; she moneyed and gorgeous, he poor but with perfect pentameters. The besotted poet dedicated hundreds of sonnets and poems to her, but, as most love stories go, Julia never reciprocated. She married a banker and died young. But at the Preseren Square, there still stands Preseren in green granite looking at Julia peeping from the house that she actually lived in. Julia's bust is embossed on her house and you can see the crease on Preseren's breeches. He stands there. Forever smitten and waiting.
But he is the not the only one, there are dragons everywhere in Ljubljana – green dragons that lend the famous Dragon Bridge its name. With their wings taut in air, they look menacing enough to keep all evil at bay. Funnily, nobody talks of dragons as male or female; there is just one man amongst all the dragons in Ljubljana – the wrought iron dragon that hangs up the cobbled corner of the Ljubljana Castle. You know this one is a male, for not only is he anatomically correct, he is libidinous eternally. When you walk down the castle, there is the well of Narcissus in the Old City, where narrow streets end in beautiful art nouveau buildings (one is even called Indian for its vibrant colours!), quaint cafes or marble fountains.
While Ljubljana finds its first mention as Laibach in 1144, little drops of rainwater were trickling down Postojna cave to form a 20-km long breathtaking mounds and curtains of stalactites and stalagmites. As the train chugs through the dark caves that are said to be 3 million years old, there's a chill down the spine – not only because of the temperature that is constantly maintained at 5 degrees Celsius but also because of what you see around; on the ceiling there hang what looks like pointed sabres, thousands of them so delicate that you dread whether they would drop on you. The last one fell off the roof nearly 50,000 years ago, or so the guide says. There have been no witnesses perhaps, expect the pink salamanders that for generations have been blind because not a ray of sunshine has pierced through the Postojna caves!
I would accost history again in Slovenia, this time in Bled, known for its lake, rowers and a tony house that Marshal Tito lived. In the Museum in Castle Bled, there are clay models wearing sack cloth, their unkempt hair tied in ropes and crass threads. If you are lucky you might bump into ancient knights and queens, the queens in such elaborate headgear that I wondered if she housed a neighbourhood in it. What is more intriguing is the very socialist façade of Villa Bled, where Tito once cut two holes in an exquisite painting so that movies could be projected with ease on the colossal wall opposite. But Bled is beautiful and in winter when the lake freezes you can rev the engine of your car and burn tyres on white ice.
Of that night in Portoroz I remember nothing except the guttural Love me Tender….But Slovenia evokes so many thoughts - beefy castles, green lakes, bustling cafes, orange roofs, flaky strudels, soup in bread cups, exquisite lace, wine that even ambrosia can envy, salt mud that can turn a frog into a prince….And god's riffs with colour at every camber!

Published in The Economic Times, July, 2008