Tea & crab with a cricketer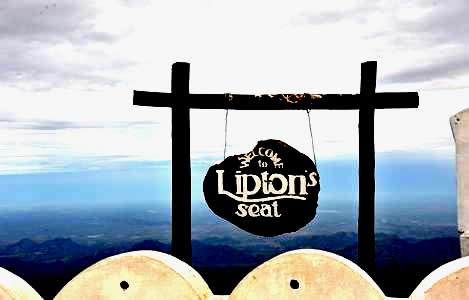 Photograph by Preeti Verma Lal
"An iced tea soda carafe for you?" Cricketer Kumar Sangakkara was being a gracious host. That balmy evening I was sitting in Ministry of Crab, Colombo 's hippest restaurant, when tea interrupted the conversation about cricket as a means of reconciliation in war-torn Sri Lanka . The Ministry is his restaurant and Sangakkara was talking of his love: cricket (and the 1.5 kg lagoon crab that is nicknamed OMG (Oh My God)). There was the suave, dimpled cricketer, and then there were the scrumptious crabs. On an ordinary evening, I should have gone 'crab'by; instead, my mind was brewing tea stories. Do not blame me, in Sri Lanka , you cannot but not think tea. It is the tea nation. Country of the famed Ceylonese tea. The world's second largest exporter of tea. The world's largest tea auction is held here. Tea, here, is a monument to courage as is the lion of Waterloo . Or, so believed Sir Arthur Conan Doyle.
More than Doyle or Orange Pekoe, I was lost in the thoughts of a flamboyant millionaire who nearly rewrote the history of tea in Sri Lanka (formerly Ceylon ). His name: Sir Thomas Lipton. And I was in Sri Lanka to retrace his steps through the Trekurious Simondou Tea Tour. I hopped on to a rickety train from Colombo to the hill country where Sir Lipton not only owned immeasurable hectares of tea estates, a colonial bungalow, the Dambatenne tea factory that he established in 1890, but where he even found at 'seat' for himself at 6,000 ft. above sea level. Sitting under a canopy on the edge of a cliff now known as 'Lipton's Seat', the Yorkshire dandy would boast brusquely, "Everything that you can see from here is mine."
The misty mountains and the terraced terrain of Haputale were still a four-hour drive from Kandy . The road was treacherously winding and the night too dark. Thankfully, Rukmankan Sivaloganathan, CEO and co-founder of Trekurious, a high-end travel marketplace, had a bagful of tea stories. How the Sri Lankan tea-tale began with blight. Yes, a blight in 1869 that wiped out entire coffee plantations. Tea was not the first cultivation option. However, in the Loolecondera coffee estate, James Taylor had experimented with tea brought from the Botanical Garden in Kolkatta. And lo! tea became the island nation's flavour. Tea was first commercially planted in 1867; the first tea was shipped out five years later. The weight: two small packs weighing 23 pounds. The price: 58 Rupees.
That's how Sri Lanka 's tea-tale began. My tea-tale began at the door of Sir Lipton's bungalow. Amidst the terraced tea bushes and the cloud forest of Haputale, beyond the neatly trimmed green shrubs lies the 100-year old bungalow with slanted roofs, teak doors, red geraniums and the memories of a legend. For years, the doors to Lipton's bungalow were closed for public. It took the ingenuity of Sivaloganathan to rejig Lipton's heritage into an experiential tea tour in Haputale. In the large verandah, Lipton not only mulled over marketing strategies to sell tea in 300 of his stores in England, he also threw in glamour and entertained celebrities, including the grandmother of Camilla Parker Bowles, the Duchess of Cornwall.
The Trekurious Tea Tour began with a breakfast in Lipton's bungalow where Sivaloganathan poured Freixenet Premium Cava, the scrambled egg came with a tea leaf embellishment and the Simondou tea was poured in immaculate porcelain cups. After a lazy breakfast, it was time to go where to Lipton's Seat, the tea planter's favourite spot, where he sipped tea with his monied guests. From the Seat, the valley looks like an extended tea garden. All around is tea. Nothing else. A few miles away in the Dambatenne Tea Factory which Lipton established in 1890, I saw green tea leaves being withered, rolled, twisted, sieved, winnowed for that special Simondou Tea – the low plantations in Sabaragamuwa lending a darker shade and the high-grown tea in Dimbula and Uva acquiring an unusual mellow rosiness.
However, what's a tea tour without history thrown in. And the best place to gape at the beginnings of Sri Lankan tea is Ceylon Tea Museum in Kandy . There's a 100-year old Little Giant Tea Roller, a hand operated tea roller; Venetian Drier, the first tea drier ever made by W&J Jackson in 1880; the oldest known packet of Ceylon Tea, still in its original packing; and even a photograph of the world's largest Tea Bush.
As part of the Trekurious Tea Tour, I had picked up everything I needed to know about tea, but, they say, the test lies in the taste. In the Thotalgala bungalow, I opened a packet of Simondou Orange Pekoe and poured hot water. Ribbons of mist flitted by and Sir Lipton with a bushy moustache and a tuxedo stared from a wooden photo frame. In the tea nation, my tea-tale was being rewritten. In Simondou Orange Pekoe flavour.
The Deccan Herald, November, 2012