Squares, circles & all about design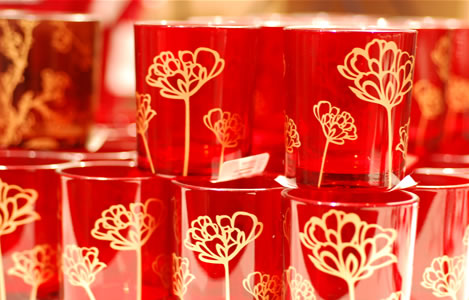 Photograph: Preeti Verma Lal
And you thought design was an ordinary chore. Like nailing four legs on to a plank and turning it into a chair. Or wriggling a filament into a glass tube to turn it into a light fixture. Like hanging a nugget of gold around your neck and calling it a pendant. Or throwing a handful of clay on the wheel and making a tumbler out of it. Simple? You think so.
Think. Think again before you step into Sweden. In the Swedish capital even the ordinary, mundane objects could flummox you out of your designed wits. Like the egg chair by Arne Jacobson or the Bas Kool's chairs that twist around their sitters like a hug or the Mayer H.'s heat sensitive chairs and chaises on which the sitter always leaves an imprint. The thought of your butt print on a chair can be hilarious, but everything is fair in love – and chairs! Look at the lights. In the Nordic Light Hotel, lights do more than the humdrum task of driving away darkness. They have metaphysical chores, like lighting your mood, leaving heart shadows for a night of passion, or little swirls through the way they fall on the curtain. The real gold swoosh on coffee mugs and earthenware bags in Blas & Knada, zipped vests for carafes in Formverk, silver sewing case in Nutida Svenskt Silver, porcelain pots in Kaolin and glass artefacts in Konsthantverkarna, the oldest craft cooperative in Sweden.
Ah! Which design do I begin with? Which designer? How about God, first? Look at how thoughtfully he has placed Stockholm on the pristine blue of the Baltic, how 14 islands hold hands to give Stockholm such a gorgeous landscape. (Well, he even made the Swedes drop-dead stunning, but that is another design story!). And then there were the olden artisans who put together millions of red bricks to make the City Hall where brainy men in black tuxedos gather every year to receive the Nobel Prize. They glued 20 million gold nuggets on the wall to make shimmering murals that narrate stories with élan; its gilt weather cock the size of a Beetle car. Nothing in this Scandinavian country seems random, everything seems to have a design.
They say, a country is known by the buildings it makes. If that axiom is true by any stretch, Sweden certainly deserves its fame. Much before modern Swedish design became synonymous with the elegant Swedish Grace tag, instead of brick and mortar, the Middle Age architects used timber. By the 12th century stone had taken over from timber and if you notice, all Romanesque monasteries are made of stone. However, when the Gothic style held sway, stone had to make way for a new building material – limestone. Between the limestone and the red bricks that are so ubiquitous in old castles, palaces and churches, the Swedes designed magnificent Wasa castles during the Renaissance and stuck to the grid plan street pattern with central squares during the Baroque age. In the 18th century, Swedish building design took classical overtones followed by revivalism in the mid-19th century. However, architects and designers were to shed historicism and classic nuances in the late 19th and early 20th century, taking to stark neo-classicism which came to be known as Swedish Grace. Today, Swedish building design borrows from several ideas, it is minimalist, functional, high-tech but with recognizable signature styles.
And nowhere are they more visible than in the Design Hotels. In the Design Hotels Yearbook, you can find details about Avalon Hotel that sits in the heart of Gothenburg and is the first hotel in Europe to earn a feng shui certification. The architecture is clean and functional, the corners rounded off and contemporary Nordic architecture is combined with timeless classics like Arne Jacobson chairs and hand-tufted Kasthal rugs. Not too far away is Elite Plaza Hotel housed in a century-old building that was once the University of Gothenburg. The entrance is made of fine-cut and partially polished granite while the rooms have neo-classical highlights like arches of Italian marble stucco. However, Stockholm's Hotel J has shunned all clichéd inspirations. Instead, it draws on the nautical design of the historic America's J-Class boats. Hotel J that offers a sweeping view of the islands of Lidingoand and Royal Djurgarden national park is often referred to as one of the Meccas of Scandinavian Design.
The moment you walk into Nordic Light Hotel, the cubist furniture catches your attention. But if it is dark and the lights are on, you would notice the designs that ordinary lighting fixtures can create. The walls, ceiling and floors serve as a constant tapestry for lighting architect Kai Piippo's imagination. The blues, oranges and pinks splashed on the wall make subtle, yet intricate designs. And in its 175 rooms, the guests can play with the switches to create their own designs. With huge renovations on, the Nordic Light has hired light professors and lighting designers to get the delight design right. Nothing beats the design of Ice Bar, a bar where the only building material used is ice from the Thorne River and the temperature is constantly maintained at minus five degrees.
While colossal structures underwent experimentation on the drawing board, some artefacts retained their original look for centuries. Like the Dalecarlian (Dala) horses, those painted horses that meet you at every bend, in every museum, in every souvenir shop, every boutique outlet. Much before the Dala horses became a symbol of Sweden, they were merely unadorned toys for children made of the scrap wood gathered from the clock case industry in the Dalama region. The angles are flat and the body colour primarily red. The decorative harness in white, green, yellow and blue came later with Mora artist Stika Erik Hansson being the first to use two colours on the same brush. The horse whittlers from different regions made the horses stout or lean and the painters added a very distinctive touch to the pine horses that are now mostly made in Nusnas areas.
But that is not the best use they put wood to. All that calls for a great décor is style in Sweden. Over centuries, pale tones, white, cream and light blue have been the staple, with gold and red adding that bold accent. In furniture, even though the lines are straight, the curves come in gentle details, for example, the legs are usually tapered and end in rounded or squared ends, some even fluted. Benches that form an integral part of a Scandinavian interior have long narrow six legs usually with minimal upholstery. Beds could come in simple, straight lines with upholstered foot and headboards. To add that old world charm – and perhaps grandeur – are the yards of batiste hanging from wall mounted canopies. But if you head to the countryside, beds acquire interesting transformations like trundles and daybeds. For all kinds of furniture, it is blonde wood that remains the all-time favourite – alder, white pine, birch.
Reams and reams can be written about Swedish furniture and furnishings design but in the modern mind nothing captures the imagination more than Ikea, a company that began small in, incidentally, Smaland province. In the early 1940s Ingvar Kamprad started selling home furnishing at prices lower than his competitors, his designs with minimal accentuation and very functional. What began as one man's vision is today stacked in 235 stores in 30 countries with a turnover touching nearly 21,000 million Euros. Such is the love for Ikea that 190 million copies of Ikea catalogue is sent to homes across the world and 1.1 million visitors step into its stores everyday. Ikea's Billy bookcases with adjustable shelves say it all; 32 million of these have sold since 1978. However, it is not just everyday household things that Ikea has revolutionized, the originally flat-packed BoKlok houses created a storm when they first hit the stores. These pre-fab L-shaped two-storied buildings have flexible open-plan layout, large windows and high ceilings. And if you thought you would need eons to put up a pre-fab home, you are wrong. It only takes a day to assemble! Is it any surprise then that British magazine Icon said, "If it wasn't for Ikea most people would have no access to affordable contemporary design." And to add another feather to Ikea's already decorated cap Icon voted Ingvar Kamprad as the most influential tastemaker in the world today.
I can never forget walking around in Stockholm, hopping from one design store to another, wishing I had the bank balance of a princess to pick all that tempted me. I almost swiped my card clean in NK, the hippest store in town but when wisdom prevailed and my feet got sore, I decided to carry the design vignettes in my eyes and my camera. Not in countless shopping bags. Honestly, I could not afford it!
Published in IDI, 2008