Foodie's Day Out in Sydney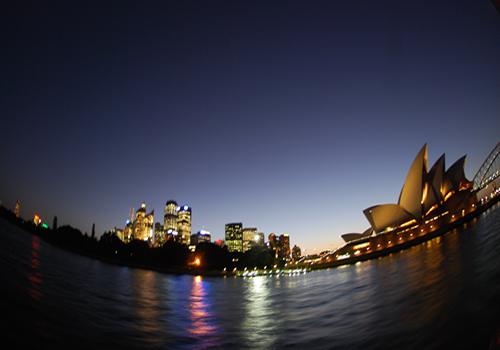 Photograph by Preeti Verma Lal
"W
hat would you like to drink? Semillon? Verdelho? Shiraz ? Cabernet Sauvignon?" The dimpled Kristina was standing by my table in Sydney 's Four Seasons Kable's restaurant and spewing wine delights. The teetotaler in me listened patiently; I did not want to interrupt her honeyed offering from Hunter Valley , the country's oldest wine region. "Still water. Chilled," I said with a poker face, presuming I had settled the drink order for the night. "Water? Which one?" Kristina dimpled again. "Effervescent with your salad? Classic Sparkling with red meat? Waiwera that comes from New Zealand ? San Benedetto from the Veneto aquifier in France ?" Before my jaws could drop further, a water menu was fluttering by the silver fork. I had just stepped into Sydney and little did I know that my food miracles would begin with a drop of Antipodes , a bottle of artesian water.
Antipodes was more than an euphemism for plain spring water, it tingled my palate subtly. But if that drop transcended the inane dash of water, the degustation food at Marque Restaurant was, well, sublime. Actually, intellectual - the Sydney Morning Herald newspaper calls food at Marque intellectual, while New York Times goes a step further to describe it as "possibly the best food in Australia." The dainty macaroons, chaud-froid free range egg, sauternes custard, parmesan gnocchi and bitter bon bons get rustled by Mark Best, the owner-chef, with perhaps the most alluring crow's feet I have ever seen. A former electrician in the gold fields, Best has more food awards than his mantelpiece can ever hold. When the dark red macaroons came laid delicately on a warm plate, I wanted to wrap them in velvet and when the exquisiteness repeated over the eight-course meal, I wondered why anyone would use a prosaic word like degustation to detail the poetic romance of a food so beautiful. At Marque, food beats the taste buds; on a platter it metamorphoses into a work of art.
In Hotel Australia, food has no such superlative pretensions. The 95-year old pub revels in its Edwardian architecture, double brick walls, polychromatic brickwork and the undying myth of the murder of John Williams Manners, a rogue. On the menu is a complete menagerie - saltwater crocodile, emu wings, pepper kangaroo, barramundi pie, beef and bock pie…The animals on the menu baulked the vegetarian in me, I stuck to the anti-pesto pizza while across the table a man from Brisbane sang paeans to the chewy crocodile meat, low-fat kangaroo meat, friands (puff pastry wrapped around a sausage) and the oh!so Australian Cooper's cloudy beer that gets brewed in the bottle. Listening to his meat escapades, I wondered if the zucchini pizza on my plate was derisory grazing grass. "Mate, you should try the kangaroo…" the Aussie prodded before heading out to another café to quaff the Lemon Lime Bitters, another favourite Australian drink.
In Sydney , I, the frugal eater, was sinning, joyfully immoral as an epicure. My eyes were not getting jaded with platters laden with food and my stomach was not growling for everyday home food. As if a perfect accompaniment to my sin were restaurants and cafes where temptations galore - on streetsy cafes and ornate restaurants. Perhaps one of the classiest of all temptations is the Tetsuya, once touted as one of the five best restaurants in the world. Housed in a heritage building and complete with a Japanese garden, Tetsuya is French-Japanese fusion food; its signature dish being the confit of Petuna ocean trout served with konbu and fennel, followed by terrine of Queensland spanner crab with an avocado soup. If you have a sweet tooth you might get ready to barter your kingdom for chocolate terrine with mascarpone and cognac anglaise.
Tetsuya is all sit-down and propah, Harry's Café all meat pie and rambunctious. Harry's was once on wheels and the early British settlers loved their pie bowls; 70 years later it remains the pie destination for all Aussies and an "institution". Made with lean meat, rock salt, pepper, herbs and spices, an everyday meat pie still uses the original ingredients, though Harry's has now shunned its wheels and moved into a brick and mortar building. But the meat pie remains what it originally began as – absolutely scrumptious.
That one day in Sydney I was getting drowsy with food and the last thing I wanted to dream of was Pavalova – no, not the ballerina Anna Pavalova, but the dessert with meringue crust that is said to have been inspired by her tutu draped in silk cabbage roses. I do not have a sweet tooth and in Sydney I did not want to die of a 'sweet' dream. When morning came I had the choice of walking up to Café Boluzzi that rolls its shutters up at 5 am or I could find a little chair for myself in Darling Harbour by the Sydney Opera House and slather my focaccia with Vegemite, an Australian spread made of brewer's yeast. Or I could just be lazy and go cheesemongering in tiny 150-year old Fort Denison where an old cannon actually booms before Willowbrae goat curd, Piano Hill Ironstone Gouda, Tarwin Blue and other delectable cheese made of goat, cow, sheep, buffalo milk gets sliced with graceful knives. That day I just rolled over and pretended hungry.
In Sydney the frugal eater happily made way for the epicurean. But that joy surely came with truckloads of calories – I am not even counting them. After the Sydney food jaunt I dread standing on the weighing scale, I know it would tip dangerously!
Published in The Economic Times, 2009