A Suez Canal in Sydney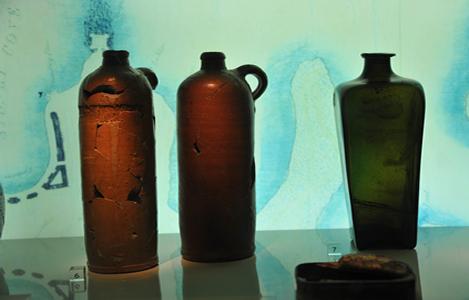 Photograph by Preeti Verma Lal
There stood he. With menace in his eyes. A villainous gun in his hand. Dressed in exaggerated black bell bottomed pants, a short black paget coat with a gaudy neckerchief around his thick neck. In the Suez Canal , his swagger was brusque. He, the notorious larrikin, was staring with bloodshot eyes. Where I stood, there were sly grog shops near which men wagered on blood sports, harlots lured the drunks and ex-convicts strutted the streets like monied gentlemen. There was an opium den. Seamen were murdered here. Ghouls haunted the sandstone blocks. Rambunctious boy loved gang wars. And riff-raffs loafed around without a woe on their brow.
In Sydney , I had wandered into the 'dangerous' Suez Canal . Suez Canal in Sydney ? Did I see you smirk at my addled geography? Wait. No, I have not scrambled the contours on the map; there is a Suez Canal in Sydney – a waif-thin alley steeply going up from the cobbled pathway near the Sydney Cove. Supposedly, a pun on 'sewers', it was in the Suez Canal that the rich threw their garbage and every time it rained, there was a torrent down the narrow alley. I had strayed into the Suez Canal not in search of rogues and convicts, but history. For it was near Suez Canal that the first fleet of European convicts, soldiers and settlers stepped ashore on January 26, 1788, when Australia was declared a British penal colony. It was near where I stood where Sydney began life. I was in The Rocks, Sydney 's first neighbourhood where larrikins pulled out their guns without an excuse, where ex-convicts chiseled colossal sandstones for buildings and where men spent loud evenings in grog shops. And yes, larrikins still lurk in the Suez Canal – still in their gaudy neckerchiefs and fedoras and still looking menacing. Not in flesh and blood, but as embossed silhouettes on the stone walls of the Suez Canal .
That's how I met my first larrikin. That day in Sydney, I trespassed into the beginnings of Sydney in an area which, in 1823, Commissioner Biegge described "… The Rocks inhabited by the most profligate and depraved part of the population." Today, if Biegge were to sit by The Rocks sidewalk, he would surely eat his words. What was once the fiefdom of the larrikins, the haunt of garrotters and delinquents of early Sydney and a row of ramshackle warehouses is now cluttered with artisan markets, stylish cafes, hearty pubs; it here that arty women sip Australia's famous cloudy beer and talk of Michaelangelo, it is here that handsome hunks strum a guitar and smoke a cigar.
As I set foot on George Street , it was tad impossible to believe that two centuries ago it was a dirt track and the first street in Sydney . A dirt path is all that early Sydney needed – there were no carts, carriages and just a handful of horses. Originally called High Street, in 1810, the dirt track was rechristened George Street in honour of King George III. Beyond the name, there was nothing imperial about the first Sydney street. On a windy day, it threw up clouds of dust; on rainy day, it was merely stretched muddy slush. Soon, dirt made way for woodblocks and young lads were hired as 'sparrow starvers' to pick up rubbish and horse droppings.
In The Rocks, I had so regressed into early 19 th century Sydney that I could almost see Francis Greenway, a convict architect, hunched over his wooden drawing board preparing blueprints of the 41 buildings that he designed in The Rocks. Greenway was a prosperous architect in Bristol , but a forged document, a death sentence and a long sea voyage changed his fate to that of a convict. Not his skills, obviously. He was appointed the first Government Architect. Of the 41 buildings that he designed, 11 still exist – Conservatorium of Music (originally a stable), Hyde Park Barracks, St. James Church.
In The Rocks Discovery Museum, I peeped into the notebook of William Dawes, officer of marines and scientist, who took keen interest in the aboriginal language. In Notebook A, page 34, in cursive hand is written: Yarsbabooni – I am not tired. Notebook B, page 35: Nadyanalami – Did you see us? I was twisting my tongue to get the vowels right, but failed miserably. Behind glass panes lay broken bottles, cracked pots, frayed shoes… All reminiscences of early Sydney .
The Rocks walking tour had my knees wobbly and I ambled past the Orient Hotel, one of the oldest buildings in Sydney and headed to Hotel Australia, the 95-year old pub that revels in its Edwardian architecture, double brick walls, polychromatic brickwork and the undying myth of the murder of John Williams Manners, a rogue. This certainly is not the oldest pub in The Rocks; Fortunes of War vies for that tag. Set up by a thief who later came to known as Botany Bay Rothschild (that's how rich the thief became!), the pub received a liquor license in 1828 and is often touted as Sydney's oldest pub, though Lord Nelson (another pub) thinks it is baloney. Lord Nelson claims the 'oldest pub' tag is rightfully his.
At the end of the walking tour, I hopped back into the present-day Sydney . Swank cars whizzed past me, ritzy shops beckoned me and women in pencil heels talked of Picasso's Farmer's Wife, an original painting on display at the Art Gallery of New South Wales. I had not forgotten the larrikin, I wanted to meet him again. In the Suez Canal . There stood he. With menace in his eyes. A villainous gun in his hand. But I was no longer frightened. I envied his fedora and whispered a question in aboriginal language: Dwiana tali (Will you give this to me?).
The larrikin stared back at me. Did he say yes? Perhaps.
The Week, 2012