Tallinn Tattle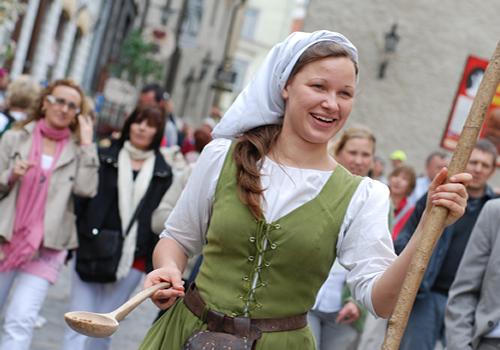 Photograph by Preeti Verma Lal
Sting. Who would have thought that one day I would bump into Sting? No, not just crooning through the CD player that sits in a corner of my stark living room, I would actually walk a cobbled path in Tallinn (Estonia), open a green door, lie in a fluffy bed with embroidered linen and find Sting there. Kind of. When I walked the chintz red carpet, past the antique cloth irons as bookends and a dry gourd adding drama to a somber glass vase, I could hear Sting's footsteps – he must have walked up the same red carpet of Hotel Scholassle one day. Much before the nippy afternoon that a ferry brought me to Tallinn . That the Queen of England must have hopped up in her mules (there are no elevators!), powder pink dress and tidy pearls added to the intrigue of the 15 th century building that was once a monied merchant's home. The wooden trusses, wrought iron candelabra, wine bottles stacked in a dungeon look-alike seem so surreal that you almost imagine a Viking sprinting out in painted armour hoisting a spear in hand. Alas! There were no Vikings. Instead, I had the hip and imperial for company - a brown painted board boasted of all the rock stars and royalty who have walked the cobblestone streets of Tallinn and snoozed in Scholassle.
Perhaps therein lies the charm of Tallinn . There is something for everyone – quaint cafes, snazzy restaurants, medieval homes, free wi-fi everywhere (Estonians believe that high-speed Internet connection is their birthright), a Ghost Street, a squat City Square, powdered grain Kama for breakfast, blood sausages (it's congealed pig's blood) for lunch and rhubarb cake for dessert. There's a museum not just to the confection called marzipan but one even for medieval torture instruments! In the city whose history begins nearly 3000 years before Christ when the Finno-Ugric ancestors of the Estonians migrated to the coast of Baltic Sea you can stick your toe in the silken sand, turn back time in the 700-year old Old Town replete with tunnels and turrets, get slathered in rose and milk in a swank spa or feel like Don Quixote sipping coffee in a windmill.
But I shunned all to-do options from the baffling brochure. Instead, I shot a parrot. Wait! Before you jump to that killer conclusion. In the City Square I shot a parrot exactly where once a man was executed for a squabble over a bad omelette. I held a bow and tried shooting a red parrot – the felt parrot stuffed and perched on a bench and the man in Victorian breeches and moustache stringing an ancient story of the little boy who held the keys to the church spire. "Aye you pilgrims from Hindustan …," the man was exhorting everyone to pull that arrow out of the quiver. The man in breeches was reenacting an ancient annual ritual where men vied to shoot a wooden parrot off a high pole. As the story goes, one year a plucky boy called Toomas beat the men and shot the parrot. Standing in the City Square , I thought I was Toomas, I could shoot the parrot in one twang of the bowstring. Toomas? Not in this lifetime. My arrow darted absolutely off the mark and startled a girl in leggings and a raccoon fur stole. That was my last concerted effort at chivalry in the Baltic nation that first finds mention in the historic records of Arab cartographer Al-Idrisi. But that plucky lad lives on, not just in oft-repeated legends and glossy story books, but even as the city's most famous weather vane.
I was being a hunter in Tallinn (so what if it was a stuffed parrot) and I needed to beseech the Lord for forgiveness. Bundled up in layers of woollens and walking gingerly on the uphill lanes, I stepped inside the Aleksander Nevsky Cathedral, a very Russian-looking church that lords over the city from atop Toompea Hill. Inside the church with black onion domes and sorrel exterior priests in purple robes were blessing the congregation and women in chic clothes sang the hymns. The 109-year old Nevsky Cathedral stands like a colossal testimony to the Tsarist power in the Baltics and most Estonians would rather wear blinkers and walk this path than gaze at the reminder of a callous Soviet regime that the nation shook off in 1991.
I am not sure whether the Lord forgave me for my audacity but when the frosty breeze had me sneezing, I thought of picking burnt bees and powdered unicorn from the Town Hall Pharmacy, that opened its door in 1422 and is the oldest continuously running pharmacy in Europe . But the curious little shop no longer keeps burnt bees on its shelves, all that has been replaced by modern pills and concoctions.
Ah! I have a sweeter option, I suddenly got prepped. I could have Mart's Bread. Or, marzipan, as the ordinary mortals call it. It was in Tallinn that the marzipan was invented (Skype too is an Estonian invention!) by a young apprentice called Mart. It all began with an alderman's nasty cold and his orders at the pharmacy to concoct a cure. But the boss of the apothecary fell ill and it fell on Mart to rustle up an antidote for that nasty cold. But Mart refused to throw in the bitter ingredients in the cauldron, his recipe included almonds and sugar. No one knows whether the alderman survived the cold, but marzipan became so famous that the Estonians even dedicated a museum to it.
However, in the city that would be the European Cultural Capital in 2011 I was looking beyond the marzipan and dusted sugar. In the city that started the Singing Revolution in 1987-1988, I was longing for a dulcet song, a mellifluous strain. And what better place than Tchaikovsky's. In the hip restaurant in The Telegraaf Hotel where carpets bear old telegram messages in their weave, no one was choreographing the maestro's Swan Lake or The Nutcracker, but in his 169 th birth year, the food was an ode to the maestro and his music. Just as Tchaikovsky opened The Nutcracker with a miniature overture, the dinner in the oh!so Russian kitchen began with foie gras foam with fresh salad and brioche, followed by lime sorbet, partridge fillet on puff pastry with quenelle and concluded with raspberry soufflé with forest berry compote. In Tchaikovsky's, the food was as sublime as the music of the man from whom it borrows its name.
If you want to go back in time and feel like the Vikings did – with a spear in hand and a quaint hat - leave behind the stilettos in the hotel room. You can only walk, the cobblestone pathways are too narrow to fit a horse carriage, forget a swank Mercedes. You can go breathless walking up to the Toompea Hill from where nobles looked down – literally – on the artisans and merchants. Now if you stretch and bend a little, you can count the five spires that dot the Tallinn sky. And those stilettos are a definite bane if you want to be a medieval warrior and try manoeuvering through the pentagonal system of limestone-lined tunnels dating back to 17 th century which turned into bomb shelters during the Soviet Occupation.
That one day I had done so much in Tallinn that I felt I had packed a medieval era in those 24 hours. Thankfully, I did not have to book a room under the kitchen table! Well, some did. In 1870 when railways first chugged through Tallinn , accommodation became so expensive and sparse that immigrants actually rented space under kitchen tables for a night's snooze.
But the night had not yet arrived (and I had that regal room to curl up) and there was a rendezvous in Pussirohu Kelder, a pub that not only boasts of the highest ceiling in the world but also a local beer called Gunpowder Red. But that was in Tartu , the University Town almost a three-hour drive from Tallinn . My tryst with Tallinn was not yet over and Tartu would have to wait for another day. In Tartu beer comes in a "man size" and "woman size" and flaunts the only park in the nation where drinking is allowed in the open. I am a teetotaler, but I would go to Tartu – to see the granite Kissing Couple in the Main Square and sit under a magnolia in the famed Botanical Garden. Or, I might groove the night away in Kelder. Who knows! Today is Tallinn . Tomorrow Tartu .
Published in Lounge, 2009