Nan, new year & pink nail paint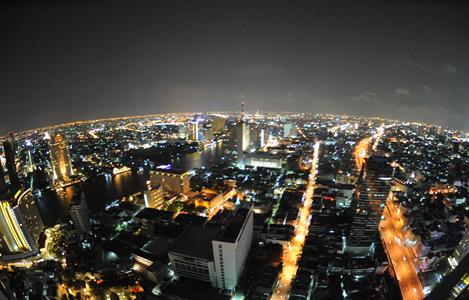 Photograph by Preeti Verma Lal
And you thought nail paint in a tiny vial with miniature brush is enough to paint toe nails! Perhaps you have not heard of Nan , then. Her toes are so colossal that even a bucket of paint is inadequate. Nan is gigantic and painting her nails can be wearisome, but in Ayutthaya , the ancient capital of Thailand , I was waiting for Nan , the Songkran Festival parade showstopper. The sun was raging, the champa was swaying in the placid breeze and the barbet was hammering her raucous call. Dressed in denim dungarees and green Birkenstock, I barely looked the perfect salon lass, but on the Thai new year day I happily volunteered to lend a hand to Nan . In the corner lay a bucket of paint and a mammoth paint brush. And I waited. Not for the 33 kings who ruled Ayutthaya between 1350 and 1767, not for the scruffy soldiers who fought 70 battles, not even for Buddha, the reigning deity, who is worshipped on Songkran Festival. In the Old City that was built by King U Thong 650 years ago, I waited for Nan . With a bucket of pink paint.
The streets were lined with earthen pots spilling with water, children looked muddy with cassava flour paste on their face, orchids and marigolds lay strewn at the feet of Buddha idols, stern cops manned the streets, and monks in sorrel robes chanted hymns. Everyone was wearing floral chintz, everyone had a water pistol, everyone was ready to gambol. For it was no ordinary day – Songkran (it borrows from the Sanskrit Sankranti) is the beginning of the Thai new year when idols are cleansed, ancestors are worshipped, Khao Chee, a scrumptious rice dish, is cooked and rambunctious youngsters spray water on revellers and bystanders.
Suddenly, I heard a grunt. Nan was waddling in, her ebony skin painted in yellow paisleys and red daisies, her toes grimy, her skin caked. I dipped the brush in the pink emulsion and applied the first coat on her big toe. She snorted adoringly. Okay, I am not the ideal salon lass, but Nan was no cute Cleopatra either. It took a bucket of paint and a several minutes to coat those nails. Nan looked pretty and pedicured. I was still hunched over the paint when a splash of water startled me; I was drenched to the last sinew. Ah! the mischievous Nan ! "Happy Songkran", the mahout cooed. Nan , the elephant, grunted mirthfully. That indulgent squirt of water marked the beginning of Songrkan in Ayutthaya . With a water pistol in hand, I hollered Happy Songkran, borrowed the gooey cassava paste from a kid and mingled with the crowd. Nan and two other elephants joined the festivities very similar to Holi but without the colours.
For 417 years Ayutthaya (Phra Nakhon Si Ayutthaya) was Thailand 's capital, complete with a brick palace with glazed yellow ceramic tile roof, stupas, the dockyard that could house 500 barges, the pricey tag as one of the most powerful states in Southeast Asia and the attractive adjective of "more like Venice with its numerous canals cutting through the island…". The glory, however, did not last long. The city was sacked by the Burmese in 1767 and all that remains are the fragments of grandeur, of which the City Historical Park is now a UNESCO World Heritage Site.
"Tired? Want some jasmine rice? A Kanom Krok?" Lek Sudjai, the guide, interrupted my historical musings. "Kanom Krok. What's that?" I repeated with curiosity and a bout of hunger. "Coconut rice pancakes. It is a Songkran specialty," Sudjai explained, her voice getting drowned in the shrieks and screams of boisterous children and the scratchy sound of speakers blaring happy hip-hops. A woman in green dress, burdened with an elaborate headdress was swirling on the dais, the old, young, and children gyrated on the macadamized street and the three elephants were squirting water on merrymakers and lopping leaves off trees. Nan was being naughty, the pink paint had been washed off her toes, but little did she care!
To catch a breath, I sat on a stump under a tree where cops of the Royal Thai Police had laid out a lavish spread. A sombre Sergeant Major was wriggling into a brown fat suit and a woman was powdering her nose before hopping onto the elephant for the parade. "You India? India , Thailand same same culture," the Sergeant uttered in flawed English. He peeled a raw mango and doled a ladle full of sticky rice from a wicker basket. "Eat. You guest. It is Songkran," he insisted; I appreciated his kind hospitality and headed to the nearby Wihan Phra Mongkhon Bophit to see the Buddha with a square jaw. The temple was crowded but the bronze Buddha looked tranquil on a pedestal. I muttered a prayer, walked to the ruins of the Grand Palace and drove back to Bangkok .
If Ayutthaya was polite in its mien on Songkran, Bangkok was rollicking with new year exhilaration. Water pistols were replaced with huge hoses, pick-up trucks were laden with youngsters and the more daring were manoeuvering the crowded lanes in bikes with broken silencers. At a red light, a flighty, giddy girl smeared the car's window pane with cassava paste and broke into an impromptu jig; on another street, a limp man in blue floral shirt walked like a slapstick clown, crazily flapping his arms.
I smiled and welcomed the Thai new year. I know this year is going to be good. On Songkran, the Buddha promised me that.
The Economic Times, 2011