Coral Draw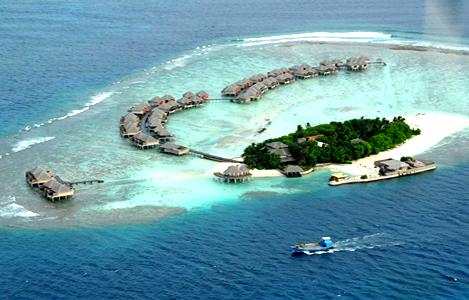 Photograph by Preeti Verma Lal
On the sun-kissed sugary white beach, amidst the crackle of the palm fronds and the murmur of the white waves, I first noticed his crown – edgy, spiky, decked in a luminous reddish-purple. He looked a tad tubby and awfully rugged. I had heard stories about his voracious appetite and his love for solitude. Yet, he mesmerized me. That monsoon morning I was ready to forgive all his flaws. Faraway in the Vabbinfaru island of Maldives , I was falling in love with the enemy. A predator. A deadly predator.
"He is the biggest enemy; he is a ruthless killer". In the thatched Banyan Tree Marine Lab, marine biologist Dr Steven P. Newman's voice was getting drowned in the roar of the thrashing waves. In the emerald waters, the coral reefs looked resplendent and by the brown wooden jetty, the sting rays were gamboling. The dhoni (traditional fishing boat) was waiting to take me on a fishing expedition, but in the world's lowest lying country it was the enemy that had me captivated. In the Marine Lab, all around lay corals – soft, pearly white corals that could serve as dainty curtains for a gnome home, red coral with symmetrical slits, stony corals, finger coral the size of fries, rubbly limestone made of petrified coral…And there he was, the handsome predator for whom my heart was pounding – the crown-of-thorns starfish. I was aghast that something so gorgeous could be so treacherous – it can wolf down 65 sq. ft of corals annually! Yes, the crown-of-thorns starfish that borrows its name from the venomous thorn-like spine is the nemesis of the corals, for it feeds on coral polyps and destroys the coral reefs that act as natural barriers for waves and beach erosion.
In Maldives , a chain of 1,199 coral islands that sit smug in the Indian Ocean , the coral reefs can be deemed survival kits. The highest point in Maldives is less than 1.5 metres above sea level and in the past 15 years the temperature and water levels have been rising menacingly and the nation is sinking helplessly. Naysayers predict that by the turn of the century, Maldives would vanish off the map – it would be buried in the turquoise waters. The 1998 El Nino mass bleaching disaster aggravated the woes of the nation that was first settled in 5 th century BC by fishermen with Tamil lineage.
The thought of the beautiful nation meeting its watery grave perturbed me and I forgot all about snorkeling and fishing for barracudas; in Maldives , I was game for a coral lesson in the Banyan Tree Vabbinfaru Marine Lab that was established in 2004 for reef restoration. "Want to plant a coral garden?" Holding a block of wet cement in hand, Dr Newman threw a question. A coral garden? And I thought only lilac, lilies, lavender and laburnum grew in gardens. Ah! I am so ignorant. Yes, coral fragments can be planted on cement blocks, baby corals that can grow into burly reefs within years in the tepid water. "Or, one could plant electric reefs," Dr Newman was stumping me with jargon. Put simply, electric reefs are metal framework connected to a low voltage current that help in mineral accretion. Corals use calcium to build their rock skeletons and they certainly grow faster on these electric reefs. The barnacle and necklace reefs looked attractive, but all coral lessons were getting addled in my head. All that stayed etched was the fact that due to the Banyan Tree initiative, the reefs around Vabbinfaru and Ihuru islands on North Male Atoll have attained 45% recovery since El Nino – a feat unheard in the island nation.
Corals had so taken over my mind space that in the downpour, I was ready to wriggle into my Wellingtons , hop into a speed boat and head to the capital Male, the world's second most populated island. Male is miniature-sque - it is barely 2.5 sq. kms. So tiny is Male that it could well be a manikin, but the physical stats were the last of my worries. I plodded through puddles in narrow lanes to see the nation's oldest coral mosque in which neither an inch of wood nor an ounce of iron is used – it is made of handcrafted coral, blocks tidily stacked over each other. Built by Sultan Ibrahim Iskander in 1658, the mosque is replete with tombs of the royal family, a sun dial and the imperial insignia chiseled in black coral. I stood by the staircase (women are not allowed inside), covered my head, closed my eyes and muttered a prayer. Not for myself, but for the coral reefs that are so essential for the survival of Maldives .
That, however, was not the end of my tryst, for the turtles were waiting at the Velavaru Island in South Nilandhe Atoll, a 40-minute seaplane ride from the Male airport. Roughly 10,000 ft up in the skies, I could not spot the Hawksbill and Green Sea Turtles that nest near Angsana Velavaru; from close to heavens, all I could see was the islands looking like squiggles painted carelessly by a neophyte painter.
In the luxurious Angsana Velavaru where villas stand on stilts in the middle of the Indian Ocean and where food is so sumptuous that even gods can order a take-away, marine biologist Mirta Moraitis taught me all that I ever needed to know about Green Sea turtles. Endangered because of over-harvesting (only 1% baby turtles reach adulthood), Angsana Marine Lab initiated a Head Start programme for baby turtles – they are cared for in the pen for the first two years of their life and then tagged and released.
Suddenly, I was distracted. I saw the handsome predator again. My heart pounded again. Moraitis knows that the predator deserves a horrid fate – it is killed with a knife and its remains buried. Burial is important because the nocturnal starfish can regenerate out of dismembered remnants. I closed my eyes; I cannot watch anything getting killed. Not even an enemy. But in Maldives , I took a vow – never to fall in love with an enemy. Never with a predator. Coral, I would love you now.
The Economic Times, 2010