Feroz Gujral
Of porcelain skin & male name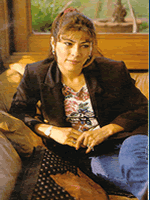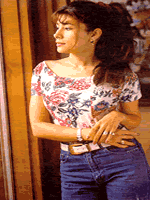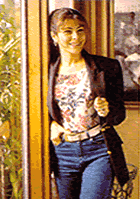 The fact is Feroz Gujral is stunning. The model, who was discovered at a cinema, says "knowing her could be boring." She does not smoke, drink and is intimdated by 'cooking'..



S

couring for facts about Feroz Gujral wasn't easy.

"Oh Feroz, the model, the one with high cheekbones and porcelain skin?"

"Feroz? She is stunning."

"Oh 1 love her."

"I go partying just for one look at Feroz. It is worth all the trouble."

But I was looking for facts. And for the apartment later. Even that was tricky. 1 couldn't have been wrong about the simple numbers game, 20 is always flanked by 19 and 21, but it was missing. Two doors, framed line drawings circa, '66-67, an old pillar and a chime fell between the two. No doorbell either. However, an innocent drawl from behind the doors, "I told you he is not coming....." and a famed signature (that of father-in-law Satish Gujral) outside proclaims that Feroz lives here.

I was early, Feroz wasn't late. She wasn't at home cither, I walk into the drawing room, the colours fascinate me - black leather sofas, leopard/tiger print cushions, a mural by Satish Gujral, frosted sea-green miniature pots, an antique water filter, a miniature replica of the flintlock pistols originally used by George Washington framed and tucked in a corner, knick-knacks arranged casually. Stacked in black shelves are-books ranging from The Grammar of Japanese Ornament, The Kashmir Shawl, to 365 and More Things to Know. Burlington's Shopping Catalogue rubs shoulders with copies of Vogue.

I look out from the third floor apartment and watch the glinting sun. Feroz hasn't come...

Just then I hear the door creak.

"She is stunning," I remember my friend. I look at her again - blue jeans, T-shirt with paisleys, navy blazer, black mocassins, shoulder- length hair tied in a maroon ruffle and a lovely smile... "'Hi, I hope I did not keep you waiting for long? I had to go for the parents-teachers meet in my son Armaaan's school." Feroz, the mom, gushes forth much before the Feroz I thought I was meeting - model, ceramic and interior designer, socialite.

But I wanted to know her. "That is very boring," she smiles, yet goes back to the beginning. Of her mixed breed first. "My mother is half-Hyderabadi, half-British, my lather is half-Arab, half-Malayali. Since dad worked for an MNC we were always moving - Egypt. Algiers, Paris, London." That is where she picked up all the languages - good French, passable Arabic, can fathom Spanish. That also gave her the famed porcelain skin and the hour-glass look.

"My grandma was British and left behind her lovely skin as a legacy." How does it still look so young? I have been using glycerine and Nivea for the past 200 years, that's it."

And the form?

"My trim form? That comes from my parents - both of them are very slim." There's more to this secret - Feroz doesn't smoke, doesn't drink, not even soft drinks ("I hate the fizzy bit"), no red meat, no snacks in between meals ("I have big breakfast, big lunch, big tea and big dinner"), no late nights, not much partying. All this garnished with a sprinkling of positive spirit and there's-a-bright-tomorrow attitude.

Bright tomorrow yes, but Feroz had dreamt of a tomorrow of another kind - as a financier or a political analyst. Lawrence School, Sanawar was the first milestone and the first love was all the 'unusual subjects' - chemistry and mathematics, "My father always said that if you do well in academics you can get away with murder." Murder, she didn't commit - instead found a boyfriend in the school and won a scholarship to Oxford. But between Oxford, a wannabe financier and a casual model (she found time for] there fell Mohit.

Feroz then was just 17, Mohit an architect and very persistent. He was the first grown-up man in love with her. And for Feroz it was an extremely 'unreal' feeling. She wasn't sure, but all her model friends were falling over Mohit, the handsome, suave son of painter, sculptor Satish Gujral. "Have you seen Mohit's jacket?" "Do you know what car he is coming in today?" "Oh Mohit is so handsome, so good looking."

It was just the second or the third day after they met that Mohit proposed: "I think you should marry me and not go back to Oxford." Something struck Feroz. "All these girls were so enamoured that I thought may be he is the right guy for me." She did go to Oxford only to return soon, marry Mohit, complete her graduation from lady Shri Ram College, so two years of law, have two babies - Armaaan and Alaiia.

It has been 13 years and Feroz still talks like a woman in love. "I find Shah Rukh Khan very handsome for the simple reason that he looks so much like Mohit." And marriage? "I've never really felt married all these years. I've always been myself. When I got married it was just like shifting home, I would get up, have a glass of milk and run to college. And Mohit was, like, always, there...," Feroz keeps gushing about him.

What about the men who drool over her?

"It is very sad that nobody drools in front of me. I just keep hearing these stories - he said this, he said that. Maybe because I have always been married. Mohit happened very early to me..."

Being married to Mohit has had its perks - like the shop in the Santushti complex in the Capital, where Feroz dabbles in table top items in bone china, along with a smattering of leather products and interiors. Did it come naturally to her? "No, no," Feroz denies vehemently, "I struggled very hard to do it. Everybody in the family is so colour and form conscious that I get away with all the sin. People think that if everybody in the family is so good even I am .."

Feroz had designed for hitkari's export range, Jet Airways and several top-notch restaurants and hotels.

Juts then Toffee walks in - a little girl in an orange lehanga and a runny nose. Goofus has organised a henna party for her friends and is getting worried about the cheese balls and chips. Toffee? Goofus? Both are nicknames for Feroz's daughter, Alaiia. It's the name of an Armenian-Turkish clan and Feroz is keeping alive the tradition of a male name for everyone, even girls.

But I still haven't met Feroz, the model. "I never thought I would he a model. Somebody saw me in a movie hall and asked whether I was interested. I thought he was joking, but it actually happened and my first ad was of Digjam with Shekhar Kapoor." Others followed and Feroz. the under-grad student at LSR, modelled occasionally. Soon after she was the busiest model-in the country "dividing my time between Bombay and Delhi. In the beginning Pepsi India rejected me because they thought I was too well-known, too non-Indian-looking. But I have just done an ad for Pepsi Far East where I have say, 'Pepsi, ching cho-ng, ching chong.'"

There are so many other Ferozes I am to meet - the Feroz who crawls into Armaan's and Alaiia's bed early morning because she wants them to leave home happy; the Feroz who loves basic Malayali food but can have fish breakfast down; the pretty woman who goes for a swim in summers so that the children do the same; the Feroz who doesn't cook because she finds the kitchen very intimidating, the Feroz who loves being home...

"Feroz is stunning." I remember my friend again. Maybe he is right.