Inder Kumar Gujral
Prime Minister with a goatee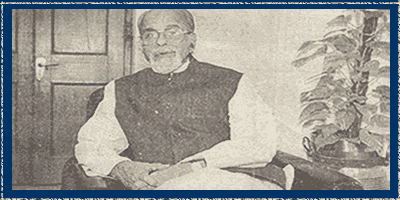 Memories of his dog named Dyer and his two-roomed classroom spilling out on the street are some of the things the usually reticent Inder Kumar Gujral, former prime minister of India, shares.





S

tockholm. Circa: Late 70s. It took an amenable week-ling stubble and a beard designer in a hurry to seal the signature look. The price: five kroners. " I was in Stockholm when a friend suggested that I go to a beauty salon. I walked into one of the most famous ones but even before I could utter a word the beard designer had given me this look," laughs Inder Kumar Gujral, the former prime minister of India.

In his repertoire of reminiscences, there are many other things he can laugh at. At a dog named Dyer. Incensed at General Dyer's brutality in Jalianwala Bagh, Gujral Senior christened their dog Dyer. It created a flutter in the sleepy town of Jhelum, the local police took offence but "my father stuck to it and the dog's name was never changed." At their pony that would baulk at the sight of incoming trains and "almost threw me into the Jhelum". At the primary school that spilled to the streets because the headmaster's family occupied one of the two rooms.

If there are peels of laughter, there are traces of grief also. Gujral, just 11 then, bore the brunt of the police when he participated in a protest march; the family huddled together when his brother Satish Gujral's illness stretched to five years and when the other brother Raj met his watery grave in the Jhelum. Nights were frightening. "Dad would spend days behind bars and ma would have to deal with loud knocks on the door." Yes years later, there was also this classmate who was brighter than him.

Now almost 80, this soft-spoken man with a famed goatee often smiles at life. He never gets angry or excited, has no fears and not many unfulfilled dreams. But he was not the bright man that the gods smiled on: he had the grit to fill empty spaces within. "It was a time when we did not have too many options, Jhelum had two primary schools and three cars. I went to the school run by Master Diwanchand where the medium of instruction was Urdu. We picked up English much later and this was a major handicap," he remembers.
From there on life never proceeded like a fairy tale. From science to commerce and then to a Masters in Economics, Gujral tried hard to find his moorings. Academics were definitely not the first priority. His dreams flitted from being a science graduate to a chartered accountant to taking up law, all this interspersed with nationalism. Like his parents, Gujral had taken a plunge in the national movement and books were thrown on the backburner but it was the 'bright classmate' who maintained a steady supply of class notes in the jail. Who fared better in the examination?

"Sheila was always brighter than me and it was her intellect that appealed to me the most," he says. The two got married in 1944 on a Sunday, not because it was auspicious but because his lawyer father hated to miss court even for a day. Not even for his son's wedding. So the Gujrals stuck to tying the knot on Sundays with minimum rituals and fewer guests. Sheila went on to do a diploma in journalism, Gujral headed the students union, took to export-import of little things, then policy and diplomacy. He also became the Prime Minister of India, Sheila wrote 30 books.

At Gujral's home at 5 Janpath nostalgia attaches itself to other memories - the pain of partition, old nightmares and throwbacks to the British regime. "I had started a little export-import business in Karachi but everything was lost during the partition. We left Pakistan clutching on to our dreams. It was the worst of times. We were expecting our first child and there was nowhere to go. Finally we were allotted a house in Babar Road in New Delhi where three families shared two rooms."

But he managed to pick up the threads of life. Having had his fill, Gujral still follows a strict regimen of morning and evening walks. He prefers vegetarian food, has bananas for breakfast and coffee at 11:30 in the morning, loves melons, does all his readings at night and is proud that his family is a "close-knit" one.

The interview is over. Gujral takes us to the manicured lawns and shakes hands. I notice something - even the contours of his wrist are gentle. For once I did not feel like killing these little details.