Iqbal Mallik
Primatologist with a green thumb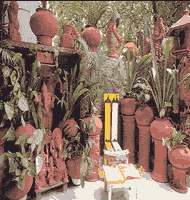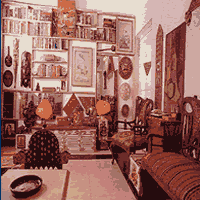 "I have studied primate behaviour all my life. Of late I have my attention towards the garbage problem, the onslaught of plastic and hospital waste, which is endangering so many lives. But all my life I have also loved colours, the reds, the pinks, the greens; I have woven dreams in colour and aesthetics is just a way of life."



S

hakespeare stands corrected. There's something definitely in a name. Ask Iqbal Malik, the noted primatologist and environmentalist, and you'll know why. "Iqbal. That's what my father called me. I never asked him why, but I never did like the name. Worse, there is always this presumption that Iqbal Maiik is a man." Once in a while, she has to dart off angry letters to newspapers to inform them that she is a woman.

Dad may have chosen the wrong name, but he did other things right. "He instilled in me a love for Mother Earth and travel," says Iqbal. And her duplex accommodation in the Capital's posh Asian Games Village is a showcase of both.

As the road curves, a patch of red and green hints at a beautiful house within. Painted pots, ranging from the simple to the utterly exquisite terracotta figurines, stand like silent sentinels outside the gate. The crotons, untouched by grime, look fresh and happy, as if a loving hand has been tending them regularly. The boughs of a huge tree bend over to lend them ample shade. In the concrete jungle they strike a joyous note.

A small iron gate leads to the partially covered verandah where swings a jute jhoola in the gentle breeze, a bronze idol, painted chairs, pots and knick-knacks arranged fortuitously. A lone plaster of Paris statuette merges with the white background and lets the eye wander to the infinity of colour around.

Iqbal probably has to offset the grim public issues she tackles every day with bright colours in her private world. They kind of balance each other and also elucidate the rhythm in the random arrangement.

"I have studied primate behaviour all my life. Of late I have my attention towards the garbage problem, the onslaught of plastic and hospital waste, which is endangering so many lives," she says. "But all my life I have also loved colours, the reds, the pinks, the greens; I have woven dreams in colour and aesthetics is just a way of life." All that lies beyond the white door confirm Iqbal's sentiments.

The not-so-big rectangular drawing room is bursting with colours - the reds, the pinks, the greens. As you sit there, absorbing the aura, it feels like you are in an art gallery. The innumerable, mellifluous paintings lend a touch of class to the decor. Scores of hooks on primate behaviour and environment are lined up on a white, well-lit shelf. But only when Iqbal switches on the other lamps does the room come alive in all its splendour. No sofas, no curtains, no carpets. But innumerable cushions, old trunks, huge mirrors, big and small chairs, trinkets and artifacts picked up from across the world, paintings, lamps, framed chandnis and phulkaris make the room at once unusual and chic.

Everything looks in sync, in place. It's as if, if you remove one, the harmony would be shattered. Even the purring air-conditioner seems to have found a snug corner for itself. To create a different picture and to make use of all available space, Iqbal has done away with the conventional concept of having a centre-table. Instead she has put together two low-lying wooden diamond-shaped tables in black and white. In stark contrast are the chairs painted in bright colours that can be pushed beneath these tables. And that's just the centre of the room. In one corner stands another wooden chair with a tall back, done up in orange and green. A strange hollow table completes that set. "The table that you see there is actually the stand belonging to my old fridge. I put some plywood around it, got it painted and I got an extra table." Talk about recycling!

Old chairs that Iqbal picked from her husband's ancestral home in Uttar Pradesh complete the seating arrangement. "These chairs are about 100 years old and the upholstery is more like a ragbag. Bits of old durries, shawls and phulkaris are stitched together for the ethnic effect. I did not spend anything on it, but they are so durable, so different," she points out in pardonable pride.

A lot of things in the room arc recycled, in a way, A transparent plastic container occupies pride of place as a lamp, a conch shell serves as a lampshade. A batik painting picked up in Indonesia is back-lit for a wonderful effect. An old maroon woollen chaddar lives in a new avatar, as the upholstery on a pair of antique white chairs. A banquette houses her reports, while a burnished brass container, a family heirloom, becomes a chic candlestand.

"I am not a compulsive buyer, nor do I want to throw away things. I just use my imagination and bring them back to life," Iqbal explains. Who else could have thought of using an old dupatta to ward off mosquitoes? For the windows that open into the verandah, Iqbal got her old dupattas painted and framed which not only lets the light in, but also keeps the mosquitoes at bay. Since they are on detachable hinges, it is very easy to take them off, wash and put them back.

But what about the paintings and the painted stuff? She surely must have spent a fortune on them. "Not a penny, if you have painter at home," Iqbal laughs. The painter happens to be Dev Kabir, her son. For Kabir, a Class XII student of Vasant Valley School, his house is his canvas. "When Kabir started dabbling in colours, I never bought drawing books for him, I let him paint anything that he could lay his hands on," Iqbal says with a hint of motherly pride. "If you look at my house carefully, you can actually trace Kabir's progress as a painter," she adds.

From paisleys and petals with ragged edges, Kabir now does a bleeding Gandhi on glass, or skeletons in charcoal, to register his protest against the nuclear explosions. "Yes, the house is fraught with reds and greens, it is not deliberate, but I do prefer the primary colours and generally don't dabble in the derived ones," says Kabir.

Colours yes, but he does not like the concept of curtains. "I feel very caged, I want to let the sun and the sky in. If there arc no curtains, the sun can walk in any time," adds the painter, poetically. Iqbal shares his dislike for curtains. She wants to take a peek at the greenery at frequent intervals.

In the absence of a curtain, the drawing room flows smoothly into the dining space. A small round table and two chairs with curved backs is where the family gathers for meals. The walls are adorned with family photographs, mostly of Kabir and Iqbal. But what's really striking about the dining space is that it's not striking at all. Too regular, too usual to belong to this unusual twosome. Or have we missed something? You bet. Before we dismiss this area as a boring aberration, a quaint container on the sideboard catches our eye. We take a closer look and find that it is actually a broken earthen pot painted white, which holds bread and biscuits to go with the morning cuppa. That's Iqbal at her recycling best.

Iqbal has not tampered with the original design of the house, she has just given it a distinct character and everyday things an uncommon usage. What in other houses would have remained a grain container in a dingy storeroom, finds entirely new meaning here. Four large aluminum containers put on a pedestal and with faces painted on them serve as laundry bins. "My maid knows which container has what, I just dump my clothes in them and she takes care of the rest," Iqbal informs.

The room where these are happen to be Iqbal's study. The rest of the furniture in this space comprises two low-lying settees complemented by an old table. The walls are covered with old chandnis and embroidered hangings.

Where does she get all her ideas from? "Nowhere. I just think, think, think. I hate wasting things. It is something that I learnt as a child. My father was an administrator and every summer we would pack our bags and hit the road. Since then I have been picking up beautiful things from everywhere. Folk art fascinates me, I have criss-crossed the world, but I do not pick up just anything. Everything should merge with everything else. There has to be symmetry even in incongruity," she adds.

Disparate elements gel beautifully in Iqbal's home. The shocking pink quilts and bed borders are perfect complements to the unvarnished bed. No velvet, no mahogany for her bedroom. A huge mirror and lots of trinkets and curios, mostly pink, complete the look Iqbal wanted - simple, yet different.

"For my house I have used colours very different from the ones I generally wear. There's red in the drawing room, there's pink in my room, I have combined blue and red in the TV room, there are myriad colours in my study," she explains. In fact, there are so many colours inside her house that one forgets that walls are generally white, floors are generally clothed with carpets, and windows are generally draped with curtains.

A short flight of stairs leads to the first floor, to a television room, a lounge and Kabir's bedroom. The marble is scrubbed to a clean, high polish and a colourful mish-mash of objects counter the solemnity of the stark white floor. But there's hurried transition in the decor. While every little available space on the ground floor has been used, the approach is more minimal on the first floor, You do see some space on the wall, you still find some place to hang another curio or a chandni. Says Iqbal, "Kabir has marked out our territories. The ground floor is mine, the first floor his." The difference shows.

To the left of the lounge is the television room, perhaps the most sparsely furnished space in the house. There's no furniture in the room, except the video cassette rack on which the television is kept. On the floor are kilims and durries in red and blue, paired with cushions in different shades, some in zardozi, others made out of Naga shawls.

When Iqbal has to house a swarm of relatives and friends, this is also used as a guestroom. Though the room's appeal lies in its minimalism, Iqbal can never settle for the usual. So one wall is covered with mirrors. The room is also partitioned to make a tiny corner for the recluse in the other and son, a corner where you can sit and muse, not even the breeze disturbing your reverie.

A few steps away is Kabir's room. Modern trappings are juxtaposed with all that is traditional in the house. This room is no exception. It chronicles Kahir's life in photographs and toys though it's the computer which is his current pet. Two single beds joined together become a cosy masterbed. "There are times I sleep in Kabir's room, that is why I have retained two beds here," says Iqbal. On one side of the wall is a huge framed collage of Kabir's photographs, of him as a toddler, a Red Indian, taking his first confident steps, and as a teenager. The miniature He-Man's plastic den, once Kabir's favourite, is hung on the wall as a memento of days gone by. The French windows let in the sun. Pull the blinds and window-panes look like stained glass, for, Kabir has tried his hands with them too.

But aren't there any squabbles, any territorial wars between mother and son. "Yes, at times, but then mom always listens to me," quips Kabir. And mom adds, "I have not added anything to the original design of the house, I have just added myself and my personality. But all the colours that you see in this house are Kabir's. This is Kabir's and Iqbal's house." And no one can disagree with that.