Jatin Das
Of stress, innocence & sensuality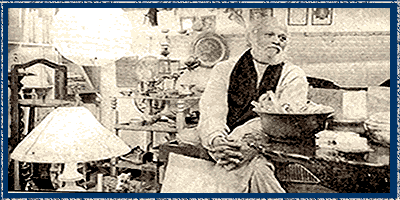 Famed Indian painter Jatin Das has an ambivalent relationship with life: he hates the stress of everyday existence, yet is happy when he meets a kindred soul, when the flowers bloom and when the stars defy the soiled sky and shine in all their beauty.

"I

am Jatin Das. I have a beard. I paint, I have a Maruti Gypsy. These are the facts about me, what else do you want to know?" A lot more.

"But how can you know a man in a few minutes, in a day?" Perhaps not. Certainly not someone who has held the brush for 42 years, done 47 one-man shows, participated in 123 exhibitions in India and abroad. Not a man who sits with the obstinacy of an angel in his limpid eyes.
"Forget the notepad, shut off the tape recorder.. It is too early for the formalities. Just look around, let things seep. That's how you will know. We Indians have aped the West, we have lost innocence. You don't find anyone gentle around. I hate the computer, the email.."

The thoughts, the philosophy , the facts dart across with amazing swiftness and leave you in a bit of daze. He's right. Yes, you probably cannot know a man in a day. But what's this? You begin to lose yourself in the turbulent stream of his thoughts. You feel an imaginary pain gnaw at your shoulders. "Give up the facade of living, live life simply, let innocence live. Just be yourself," his voice echoes in a room littered with trinkets from all over the world. You try to, but you lose yourself all over again when Das serves peeled oranges, neatly sliced apples, sprouted moong and some tulsi and neem leaves in a tiny ceramic goblets. Nobody does that.

He frets around the house barefoot (shoes are not allowed inside Das's Khelgaon home), orders his Man Friday to get money from the bank, frantically looks for a lost address. Wonders why the mosquitoes return every year. It is difficult to fathom him. Is he a greying man protesting everyday existence, the mystic looking for an unimpeded view of the horizon, the painter and the poet rummaging the soul for a fitting feeling, or just an ordinary man with an earthy sensuality? You never know.

The house and the knick-knacks add to the mystery. Several hats hang limp on a cloak tree, satin ribbons spill over the beige telephone, terracotta figurines and sculptures find little corners for themselves, books peer out of brown shelves, and a small memento from the Berlin Wall sits smug within maroon frame. All of it seems to borrow the character of a man who lives in it, for together they make one expression of the incomprehensible.

But know you must. "I was born on December 2, 1941, in Mayurbhanj, Orissa. I did my diploma in fine arts from JJ School of Art, Mumbai. I was planning to set up an art museum and later a handmade fan museum. That's all. But why should I tell you what I feel deep inside? Why should I tell you that I have an amazing relationship with Raghu Rai. Why should I tell the national media about my equations with my daughter Nandita Das?"

He doesn't.

But he is angry with the media. " I hold a painting exhibition after eight years and not a single review has appeared," he complains. Das is angry for he does not paint to sell, but when he paints he does not mind selling it. " I paint for myself, it just happens."

But it is not as romantic as it seems from a distance, it means a lot of hard work. It worsens his stress level - the stress of living, the torment of feeling too much. Stress? Of what hue? "The house has been designed in such a way that the sun cannot rest on your windowsill, isn't that stress? You got a concert and someone screeches the chair back, isn't that stress? The gardener waters the plant, yet does not love them. Isn't that stress? I am working on a mural in Parliament but can't find a sincere student who could help me, isn't that stress?"

It is , but isn't there happiness around us too? "Yes, when you meet a kindred soul, when the flowers bloom and the stars defy the soiled sky and shine in all their beauty. Yes, there is inner happiness."

Thankfully that was comprehensible. So was something more mundane. "I have a 1949 Morris Minor. I must tell you about it." It has been more than an hour and it is time to leave. You pick the threads of your own self. You can't. It somehow got entangled with the dew, the dawn and the long shadows. There are voices all around. But in a world of thousand voices, Das can hear only one - the voice of his unalloyed inner self.