Khushwant Singh
Making history by writing it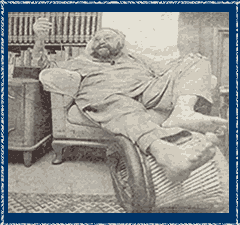 The most famous of all sardars, Khushwant Singh has written 85 books in his 84 years. An agnostic, Singh loves his Scotch, animated women and finds men boring.





S

ome epochs are defined by their epidemics, some by their inventions, yet others by their saints. But most make up for their mediocrity by pitching in with men who made headlines, and history. Khushwant Singh falls into this category with a slight difference though. He writes history.

He caught the history of Sikhism on its wrong foot, wrapped it up in its old scarred pelt and preserved it for posterity. Today, his book on Sikh morning prayer is running into its 100th edition and A Train to Pakistan still keeps the cash registers ringing. Writing brought Singh his bread and butter but it is the study of Sikhism that ensured the dessert.

The money that accrued from the Grove Press award for A Train to Pakistan gave Singh his first Mercedes-Benz; and the Rockefeller award later led to teaching comparative religion at Princeton, Hawaii and Oxford.

Religion ensures a living, but Singh surprisingly is an agnostic. "I gave up religion nearly 40 years ago." Why? Was god unkind? "No, I studied religion and it's all trash." This most unabashed of all sardars does not know much of Gurmukhi either and only picked it up as a 5-year-old living with his grandparents in Hadali (now in Pakistan) so he could correspond with his mother who knew no other tongue.

From Hadali to Delhi's Modern school was an easy transition. "In school I was bad at everything except mugging." He knew by rote most of the plays and poems. And it was his English teacher who first remarked in his report card - "he should be encouraged to be a writer."

Nobody took this seriously, not even his father. Not Khushwant Singh either. Soon after graduating from St Stephen's College he did what his father wished - packed his bags to study law at London University.

Here he was reunited - and later engaged to - with a close childhood friend Kanwal who was two years junior to Singh in Modern school and was pursuing a B.Ed. degree in London. "Our wedding created a splash in Delhi because Jinnah flew in from Bombay to attend," Singh remembers. He has another memory up his sleeve. "Everybody forgot about the groom, there were all looking at Jinnah who never even got a gift for us."

Back in Lahore, the lawyer Khushwant Singh did not find too many clients. To thwart boredom, he began writing reviews for The Tribune and later spent hours turning real life crime stories into fiction. He gathered some bylines and fame as a writer but in pre-Partition madness he lost everything and took one of the last trains from Pakistan. The prodigal never returned, the law books gathered dust. Thereafter all he did was write because "nobody has developed a condom for the pen."

Writing his 85th book in the 84th year Khushwant Singh's day begins at 4:30 with a morning cuppa that he makes himself. He reads, goes for an hour of tennis at 6:30, comes back and writes - all in long hand on yellow notepads brought specially from America. Singh never uses a typewriter, the computer is a big no.
But he has his loves. Like scotch, which he has at 7 in the evening, but "the bar closes at 8." His favorite food is anything baked or roasted. His favorite fight is bulls and toreros slaughtering each other in Spain. He knows how megh papihas breed off the logging camps and loves "animated women" who are great mimics and finds men boring.

The man who chronicled history does not know his exact birthday. "The official documents say February 2, my grandmother often said I came during the rains. Even before the Congress had decided to throw the British out on August 15 I had thought of it as my real birthday. I don't know which one is true so I celebrate it twice a year," he says laughing that famous hearty laugh.
But there other things he knows you cannot say, he writes things you cannot even fantasize about. He still makes headlines and also stories. Khushwant Singh can play the storyteller who walks into your courtyard and makes you rehearse life with a laugh. Not many can.