Khushwant Singh's home
It is all in brown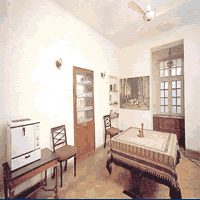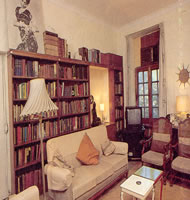 Very few have photographed the home of Khushwant Singh. Five years in England as a student of law failed to instill in Khushwant a love for law, but sundry visits to the cottages and dwellings of English deans and professors etched the blueprint for all his future homes - open shelves, no loud colours, not much clutter and an all-pervading fragrance of books.



"P

lease do not ring the bell unless you are expected." No one can walk in even a minute earlier than expected, one who is not expected is not welcome. For, here lives Khushwant Singh, the man who studied law, fared miserably as a lawyer, then waited for the muse to strike him. And what a muse! Writer, editor, poet, columnist, Khushwant has been prolific with words for "nobody developed a condom for the pen". At 84 he is writing his 85th book.

But books were cold-shouldered that afternoon. It was the house we were curious about. "That's a long story," Khushwant says as he takes us back in time, too long ago. The year was 1912. The British had proclaimed a change in the capital and overnight Delhi metamorphosed into an EI Dorado waiting to be discovered. It was then that a father-son duo bid adieu to the verdant fields of Sargoda (now in Pakistan) and trooped to Delhi. The beginnings were small but the dreams were big. Khushwant's father, Soba Singh, along with his father, soon got down to the business of transforming wilderness into concrete structures. The area now known as Sujan Singh Park, was then slumbering in peace.

And then World War II happened. The British capital no longer moved to Simla for the summer. And they required accommodation for the burgeoning troops. "The backwoods were given at throwaway prices by the British, and Sujan Singh Park was actually built on their provocation." That was in 1943.

Sujan Singh Park, with its huge arches and red brick facade, is built in the colonial style. And beyond the imposing arch and the petulant sentry lies the house that has not been photographed much, a house that has been out of bounds so far; a house that travelled far for inspiration, miles away to England. Five years in England as a student of law failed to instill in Khushwant a love for law, but sundry visits to the cottages and dwellings of English deans and professors etched the blueprint for all his future homes - open shelves, no loud colours, not much clutter and an all-pervading fragrance of books.

And the house has been faithful to the blueprint. A small passage beyond the main door narrowed further by a bookshelf, leads into the house. But before taking a peek into the drawing room, Khushwant lets us enter his 'intimate study', a place where he wrote most of his books, all in long hand on ruled yellow sheets brought specially from America. On the sideboard are photographs, the one of himself with socialite Sadia Dehlvi, the most recognisable of all. A painting by H.D. Shourie adorns the wall on the right, while an autographed self-portrait of sculptor-architect Satish Gujral embellishes another corner of the room.

A strange looking chair with fur upholstery catches our attention. "This Eames chair was specially designed for bookworms in America. You can never doze off on this chair nor does it do any harm to the neck. I used to be in it most of the time, now I prefer another study," Khushwant explains.

The muse has shifted to an adjoining room. Khushwant may prefer a study, but most of his waking hours are spent in the living room - a huge square room, sparingly done up in tones of brown with knick-knacks strewn all over. An old sofa with raw silk upholstery, a stool standing at its foot, is his favourite haunt. "I get up at 4,30 in the morning, play tennis for an hour, have breakfast and then this chair is where I am." The bookshelves are everywhere, but in the living room they occupy two large walls. It is the only piece of furniture in that room that Khushwant can call his own; the rest either came as part of his dowry or as a wedding gift. Some pieces even date back to the marriage of his father-in-law. He was the one who brought the huge sandooks or trunks and delicate tables as part of his dowry.

From dowry it is back to books again. Why have open shelves? "If you want to remain in touch with books, if you want to feel them, never put them behind glass panes. Then they become remote, out of touch." Dust and dampness are a major irritant, but Khushwant opted for teak, which is the only wood that is termite resistant. Simple shelves laden with books is, for him, a beautiful sight.

Brown is so dominant in the room that Khushwant's blue T-shirt strikes a slightly jarring note - brown sofa, beige upholstery, brown lampshade, brown shelves. Even most of the knick-knacks seem to have acquired the same tinge - a Buddha made of heavy Burma teak, a dancing Shiva with his consort, a Ganesha, a replica of Rodin's The Kiss, the wooden wall hangings with inscriptions from the Holy Quran; a table with ivory inlay work, a rosewood table.

The house is his castle as far as Khushwant is concerned. "While in England, I was always fascinated by the houses in which the deans and professors lived. I lost almost everything in the aftermath of Partition but I still remember that my house in Lahore looked almost the same, I am used to it and would not want any major changes. I'd be uncomfortable if this house looked any different," he explains.

In the living room it is the fireplace that he is most fond of. "We Indians are very mean about comfort. Most Indians would sleep in their overcoats but never light a fire. However, ours remains lit throughout winter." Bedecked with painted tiles brought from Spain and a huge mirror just above the mantelpiece, for the rest of the year the fireplace functions as a dumping bin.

Next to it is his favourite possession - a Madonna in frosted glass of which he is fiercely possessive. "Sometimes I fear somebody might stretch a long arm and pick up my Madonna," Khushwant says apprehensively.

He is extremely proud of the curtains in his living room, which are white with ayats from the Holy Quran printed on them. "I have a lot of Muslim friends and the moment they enter the house, the curtain beckons them. These curtains, in a way, act as a binding force," he says.

They also bring back memories of a bygone age. "An enterprising American married to a Pakistani, hit upon the idea that a curtain with couplets from the Quran would have many takers in Pakistan. She thought she'd make a killing, but she couldn't have been more wrong. There were no takers and it was on one of my visits that Manzoor Khan, foreign minister in General Ayub Khan's cabinet, requested me to take a dekko at them. One look and I fell for them. It has been 25 years since then and they have done a lot of 'connecting'. In fact these curtains are the most photographed thing in this house," he says.

To the right of the living room is the dining room. Except the crystal that Khushwant is extremely fond and proud of ("I like my drinks and I like to have them in exquisite cutglass") most of the things seem to belong to another age, another time. A rectangular table with just two chairs stand in the centre while an old white Westinghouse refrigerator occupies another corner. A huge painting depicting the surrender of arms by Sikhs in 1849 occupies the wall opposite the teak cabinet, while a large print of a photograph by ace lensman T.S. Nagarajan hangs on another wall.

Another door from the living room, with a sketch by German writer Gunter Grass peering down from up above, leads to the other study. An old study table, again brown, is on the left, but it is the small bed that dominates the room. Bookshelves occupy a major chunk of the space and a large whisky bottle stacked with coins from all over the world add spunk to an otherwise dreary room. A huge sandook from Khushwant's father-in-law, Sir Teja Singh Mallik's dowry, is used to store linen.

For the master bedroom, austere is the best adjective. Two single beds with quilted covers, a side-table, a wardrobe and a chair make up the bedroom. Two slightly long alcoves on either side of the beds is where he stacks his precious books, some more than a century old.

"I have almost all the books ever written on Sikhism and Punjab, they are my prized possession and I do not want anybody to touch them. There's a book autographed by Allan Octavian Hume, the founder of the Indian National Congress, that I bought from a pavement in London for six pence. There's one on ornithology also, but most of them are travel books written by Englishmen when they first set foot here," he says, casting a loving and possessive look towards them.

"The hoover keeps my house clean, my clear conscience keeps me healthy and young," claims Khushwant. The rest, perhaps, is taken care by the Spanish glazed tile embedded in the long corridor, which says: Dios bendiga casa rincon be esta casa (May God bless every corner of this house).