Madhavrao Scindia
'I never ask anything from God'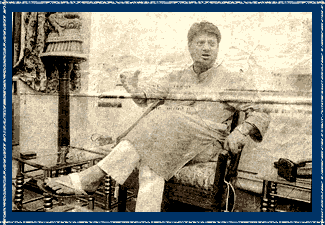 Madhavrao Scindia, the Maharaja of Gwalior, can fill a palace with his charm and style. But he has just two needs: a clean bedsheet and a clean bathroom.. The only thing he regrets is the lack of "cutting edge" that British universities do not imbibe..


I

t was the age of beatniks, of a footloose generation in love with the ways of flesh, the color blue and hating the dross of the world. In that age lived a boy who wore his hair and pullovers long. He had lost his father but always carried with him his father's lesson - not to wear his title on his lapel. He never did, except once.

On an unusually warm night in a London suburb, this Oxford undergrad was driving a tiny rally Elf and jumping red lights in abandon when he heard a police car screech to a halt. Asked for his license and ownership papers, he announced, "I am the Maharaja of Gwalior."

The cop laughed and said " Well. If you are the Maharaja of Gwalior, I am the Shah of Persia."

That night, Madhavrao Jiwajeerao Scindia relearnt a lesson. He never used his title again and is still embarrassed to be addressed as a Raja. Matters of salutation apart, what about privileges that came with the crown. "Privileges? I was a little worse off than others at the Scindia school. Most teachers would bend backwards to prove that they are not treating me in a special way. The only privilege I had was warmer rotis and better meat pieces. That is it."

He does not believe in privileges and palaces but at 54, graying and cheery, Scindia has some needs. Just two actually - clean bedsheet to sleep on and a clean bathroom. Beyond this he says, and his wife believes, he needs nothing. Maybe the missing cutting edge. "Sometimes I think I lack the cutting edge. I picked up a lot of manners in British universities, but they produce thorough gentlemen, not survivors. The US universities give you that, they add the edge."

Perhaps, that is why he sent Jyotiraditya Scindia, his only son, to Harvard. Scindia senior almost seems to have made a religion out of his son's gamine charm. "The 1971 Scindia model is an improvement over the 1945 one," says the proud father.

The family has another great reason to celebrate - this is the first time in 300 years that three generations of Scindias, who claim descent from a peasant stock from Kanerkher village in Maharastra, are alive at the same time. Touch wood, he says, and clutches hard wood piece closest to him. And all three - Madhavrao, Jyotiraditya and grandson Mahanarayaman share (apart from long names) a common hairstyle, they all part their hair on the right. "I don't know when or how it happened. My wife insisted that my son should comb his hair the way I do, so does Mahanarayaman.

Wearing a sorrel khadi kurta, Madhavrao peeps into the bygone summers and remembers a day and a meeting 34 years ago when he first saw a young girl in Hotel Ashoka, New Delhi. He was 21, she was just 18. "It was an arranged but not an intimate meeting," but Madhavrao and Madhavi Raje got engaged 10 days later, and marriage happened after a year. Scindia now finds time for golf and cricket, eating ( "I love good food, period") and luxuriating in the countryside. But he is not the party kind, dislikes shopping ("even if I have to buy a shirt, my wife does it for me"), abhors obstinate and short-tempered people.

He is a little more generous with women "giving them a little more margin, a little more leeway". Religion for him is a discipline, something to fall back upon in times of crisis. He says his prayers every morning and refrains from eating meat till he does it. "I never ask anything from God. Never. That is a principle."

Perhaps he never asked god, but he knows what he wants in next life. "You need variety in life, I would hate to be born as Madhavrao Scindia again. For me the choice is between Tiger Woods and Sachin Tendulkar."

Of the two, who? " Sachin."