Meghana Reddy
The batty, scatty veejay & model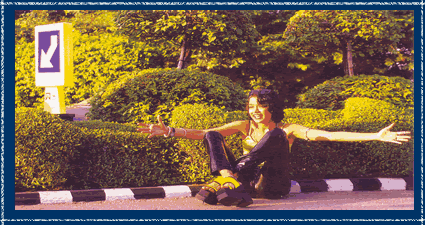 Meghana Reddy, just 22, has straddled the ramp and television with equal ease, but her rep varies from a flower-child to a rebel. Surprisingly, she still comes across as a girl next door.


H

our: 1330. Inside the Maurya Sheraton lobby. Young women, all done up, sit smugly on jacquard upholstered sofas. In a cotton shirt, jeans and tousled hair, I feel slightly unkempt. Damn! The flight was late, Meghana Reddy has just hopped out, grabbed a bite and is in the beauty parlour getting her hair done - the PR woman informs and apologizes. Twenty minutes pass by and I am still waiting for the celeb Channel V veejay and model.

Hour: 1420. In the room women come and go talking of Michelangelo. I remember J Alfred Prufrock and wait for the wafer thin girl from the Copper cologne commercial who made men drool. The montage fills in the empty space - Meghana in a Naomi lime short, very short, frock with her hair mowed; the Monte Carlo women in maroon turtleneck jersey, the seductress with the Peach Schnapps and the host of Winner Mangta Hai, one of wackiest shows on Channel V. Minutes later the montage runs out, tired of the daft images: Long legs, flawless skin, absurd dresses, weighed down accents and IQ levels below freezing point. I am still waiting.

Ten minutes and three doors later I am in the parlour for the prelude. Meghana, her hair done, is doling out tips to the attendants. I wait for charity to cease and watch: the embroidered flared pants are definitely beatnik, the sweatshirt maroon and chic, the hair short and blown-dry, skin flawless and the frame waif-like. Meghana swirls around to say hello and apologize. " Oh! I am sorry I kept you waiting, but did you have lunch?" Doesn't matter, I tell her. Laila Rouass, another Channel V veejay, is all smiles, they through my copy of Mantra and giggle.

Seconds tick by - the bills have to be paid and the dry-run for the press conference is just an hour away. I am worried about the interview. Meghana hurries and signs the bill backwards - one long swoosh which seems more like an Egyptian hieroglyph. "It is very difficult to forge the signature of you sign backwards," she offers rapidly by way of explanation. What we know as Meghana Reddy is actually Chinta Meghana Reddy, all of 22 and a bundle of near-neurotic energy.

Oh! she is finally free for the interview, but her sunglasses are missing. Meghana leaves the bills, her wallet and flowers in my hands and rushes off. She returns in a blink, the sweatshirt unzipped and the chemise showing. That's her dress seal - ganjees (which are actually nylon chemises) black bra and pyjamas. I just love wearing them. She picks up the pyjamas in Rajasthan, ganjees from the flea market and wears the house key securely around her neck, stringed in a steel wire. "I open the door and wear it back." The sneakers are pale lavender and silver anklet peeps from beneath the embroidered denim flared pants. Green and silver glitter nail enamel shimmers and a huge blue ring winks back. She actually looks like an image out of a 70s calendar gatecrashing into the '90s.

Our photographer is waiting, I could record while he shoots, but we can't. She has an image to preserve, " I am in such a lousy dress. Look there is grey around my eyes, can we shoot tomorrow?" She squats on the carpet and apologizes, " I am sorry, very sorry about it.." She soon finds a corner in the lobby, clips in the mike and we switch on - she her self; I, the tape. But not before Meghana takes a long drag from a borrowed cigarette in a no-smoking zone. That's just the first peek at the self-confessed flower child.

"What are you made of?" I was genuinely curious. The facts come hurtling down. A second child, born to a microbiologist mother and father who is into exporting scientific instruments. It was a sheltered childhood in an extremely traditional South Indian family, living and happy in Mumbai.

With all the premium on books, her dreams naturally skewed towards academics - psychiatry, to be precise. To get better grades she moved from Bombay Scottish School to St Joseph's Convent and stepped closer to her dreams of scoring 85+ per cent in the Boards. But science was not her 'scene' and the long-legged girl with a snub nose gave up the idea of becoming a psychiatrist. The next stop was Synedham College. " I pfaffed around, had juice, went for drives and hardly studied. Towards the end of BA first year I was already modeling. I just pulled through the second year and then gave up". She was just 18.

Her madness (a self-description) and her energy are unsettling but beneath all that swirl of body and voice, she is really quite transparent. That energy and a certain temptation to rush where others feared to tread were traits she acquired in the womb, or so she says. She borrowed her mother's energy and her father's sensitivity and from the family heirloom she pulled out honesty. " I am proud to be both, my father and my mother." She calls her mother Mother Earth and Fatty Cat and shares an embryonic relationship with her sisters, Sameera and Sushma.

Energy, She has tones of it, can jabber, chatter, go buzz without letting silence get in her way. She talks with her hands and her eyes. Sensitivity (albeit with a quirly touch)? What would you say of a girl who loves flowers and says " I always wear African daisies and whenever I am in a restaurant I sprinkle water on them . And if water ois not available I whisper to them, 'please live, please don't die. '" There is manic fascination for life, to experiment, to live fully.

That took her to Paris and London where she was hooked to the most reputed modeling agencies, Ford in Paris and Models One in London. That was October 1995a nd by then Videocon Mangta Hai had already happened; she was a regular on the ramp and in commercials. But a life other pretty girls would have given an arm for had begun to bore her. Her nomadic being wanted more. In London she had her long tresses mowed to the last centimeter and learnt to live away from the cocoon where she had nestled for nearly two decades. Living with other models who travelled form Milan to London to Paris,

Meghana had to deal with the trivia of adulthood - food, bills, laundry, tickets, joys, disappointments." Paris was difficult because of the language barrier but I had the time of my life in London."

She calls it her most enriching experience, but returned bag and baggage because "I no longer wanted to substitute living with working, I wanted to live."

Going away was a 'spur of the moment decision'. But "what I touched, what I saw, what I lived, just took me to a whole different plant. My soul is enriched and now equations have changed. Now, when I talk to my parents it is on a one to one basis. I want to explain myself. I explain because it is very important."

Because she has learnt not to be moved by every human encounter she has learnt to not to be easily disappointed with people. "People have fixed images of me by what they have seen, what they have heard, maybe just a picture of me seen somewhere, but I don't react because I grant them that. Now I know each one thinks from his bubble . I do not want to judge because I do not want to be judged."

For all that newly acquired objectivity, reaching out to people is important to Meghana. This ensured her return to television and Winner Mangta Hai. The program is people-interactive and spontaneous. She faces the camera without a script and would do anything for what the public Mangta Hai. " I love doing stuff out on the street and we are trying to take the concept of Mangta Hai to the extreme. Listen to this one: somebody wanted me to be a pizza boy for a day. I tried wheeling a scooter and almost ran into a bus, but I deliver the pizza. The other day I wore a lavani and shot in the fish market - somebody wanted just that."

She is distracted buy the sound of a cellphone. "Where was I?" She tries to find the missing link, isn't successful, flits to the Meghana planet (she claims there is one) as if in a trance. I wait for her to return. "That is an intimate side of me," she scurries back to earth and informs. "It is a part of me to which nobody has access, not even my family." Not that she is wary of strangers, she often leaves her thoughts behind to a complete stranger and never regrets that either.

Faith is important, as is meditation." If I am hurt or slightly ruffled, I close the door, sit on the toilet lid, cross my legs and meditate." Not at all the kind of place the Almighty would have had in mind for celestial chatter but Meghana would not settle for anything conventional to reach out to anyone, not even god.

"I was born a Hindu but a the end of the day the religion is mine." An amulet pops out and before I can ask she is god-fearing Meghana goes on, "I find the concept of god-fearing ridiculous. He takes away your fear. Why should I fear him? But I have a hotline to him, he is very friendly. Juts before leaving this morning I went to the temple, waved at him and said 'Hi! I am going. Please take care.'"

For all her talk she says, "I like being alone, not lonely. When you are alone you accept the emptiness around you, when you are lonely you don't. There was time when I needed people around me to confirm, to corroborate my being. Now I don't. "

Have there been turning point sin her life? "Isn't each moment a turning point?" yes. "Isn't each moment important?" Yes, yes. But aren't there moments she would like to erase from her own story? Does she ever let herself go, maybe even sink? "Yes, I let myself cry. It is important to get emotions out of the system," she says with a smile and adds, "I cry at least once a month."

Tears are cathartic, so is rain." Rain makes me ecstatic. I love getting wet. More than anything else it washes my being, it purges me." She flaps her arms and goes. Ohhhhh! The rain is so beautiful! She calls herself a ''baby buff' and loves rolling anything lush green. Hers is s very tactile world, "I hug a lot, I touch a lot, I can feel with my hands.." The touch is so functional it connects immediately.

What about the future? Ten years from now where does she see herself?

"Ten years…" She is already counting. "I will be 32, I wouldn't have my baby girls by then…" She goes silent and quickly corrects herself, "…I am not actually thinking about that, but films are very close to my heart." She screen tested with Mani Ratnam and wants to do parallel cinema but there is a glitch - 'I don't have the face for parallel cinema, but I wish I could do just two films and live off it.."

The PR guys hound us to grab Meghana for the dry-run. She is still looking =70sish - not pancake, no lipstick, the chemise still showing. The sequined dress waits for her in room 1411 and minutes whisk past. But I still have a question. Has she found her man?

"No, I haven't actually found my companion."

What is she looking for?

"Till about six months ago I was looking for someone, now I am not. You take so much time looking that you don't actually look. When he wants to walk in he will, till then I am leading my life the way I want to.."

She is off in a rush.

Another Sunday. Hour: 1100. I am watching Winner Mangta Hai. Meghana is still wearing African daisies.