Sonal Mansingh
In sync with Life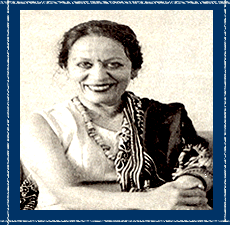 Noted danseuse Sonal Mansingh tied the ghungroo around her tiny ankles when she was just four. Today more than 60, she is not afraid of getting old and still loves pouring herself into Life.

S

tories generally happen behind closed doors. But some doors do make definite statements. Like the one that takes you into Sonal Mansingh's abode. It is a red door - dark , passionate, blazing red. It is a little forgiving too. The red hides the flaws of the door - old, tired wood chafing at the corners. Little gods also join in forgiveness, they adorn the door, smiling beatifically.

Mansingh, dressed in a printed kaftan, her hair oiled and pulled back in tight bun, is busy on the phone, so I use the time to look around. A Kali made of hay, huge brass pots, candles on the fridge, terracotta figurines lined near the round dining table, books ranging from Art of India to Great Hollywood Movies arranged casually, they all occupy a comfortable place on the mottled floor or on the crowded white walls. From where I sit, I can see a line drawing by M.F. Husain, I can also see the sun - red and passionate. They all make statements about the occupant of the room, reminding one of Mansingh's belief that "a dancer is not just a dancer, she is part of this environment. She does not exist in a vacuum…"

Yes, she does not. She is not a figure in the hall of kings of some Egyptian tombs where the dead sit all immortal and colossal. It is Life in which she pours herself, it is that which gives her shape. Neatly sliced melons and papaya lie on her table, her Man Friday is fiddling in the kitchen and life runs subtly in Muse's own abode. History too walks in, unannounced. "I was just four when I tied the ghungroo around my ankles, learning Manipuri dance along with my sister," Mansingh begins. She was then Sonal Pakvasa, a little girl with lovely brown eyes that could almost speak. "I was more of a tomboy, very good in academics, yet ready to experiment with life and the creativity that accompanied it." Her grandfather was one of the first governors of independent India and the family was steeped in traditional Gujarati culture.

"It is very important to have your roots somewhere, I am glad I have mine in the Gujarati culture," she adds. When she was seven the Pakvasas, hailing from Surat, moved to Bombay. Mansingh joined the Fellowship School and "was very active in extra curricular activities."

The family supported her and "there was no pussy footing". The Pakvasa children were never on a leash and she was happily allowed to attend a Scouts and Guides camp in South India, a thing almost unheard of in those traditional times. Even as a child, there was something unusual about Mansingh, she was not the one to troop off in a gang. While her friends opted for staid history or geography or the more stolid physics and mathematics, she rooted for the uncommon. Mansingh studied German language and literature in Elphinstone College. She was soon to shed the Pakvasa tag: she married an Oriya and became Sonal Mansingh, the name she would always be known by, even much after she broke up with the man.

Today, almost touching 60, this self-proclaimed "affectionate, earthy, sensible" Taurean is waking up to new horizons. Age has not withered her, it does not perturb her either. "I am not alarmed at the thought of growing old. Even Shri Rama, Shri Krishna, my mother and all the beautiful people have grown old, so why bother?"

She is as energetic as ever and at times startled by her stream of consciousness. "I often ask myself, 'What is happening to me? What is this happening?'", she says. But mostly she is in sync with her needs, herself. She knows she loves waking up to the chirping of birds and enjoys fruits and lassi for breakfast. She is also excited about her recent fascination for green, a far cry from the her favorite golden and rust and the occasional black. At the moment she is happy with her extended family of students, friends and Man Fridays. Yes, and dance.

There are more phone calls and my moments are squandered. The red door is shut behind me, leaving me with unanswered questions.

Maybe I will knock the red door again.